The Maggini Quartet plays Bax's Third String Quartet on Naxos- review by Christopher Webber
Arnold Bax: String Quartet No.3 in F major; Lyrical Interlude for String Quintet*; Adagio non troppo 'Cathaleen-ni-Hoolihan' (from String Quartet in E major).
Maggini Quartet with *Garfield Jackson (viola)
THE SIR ARNOLD BAX WEB SITE
Last Modified January 6, 2003 
---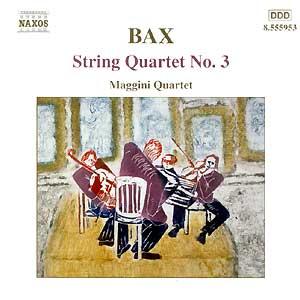 Naxos 8.888953
---
Review by Christopher Webber
'Elusive' is more often than not polite critic's code for 'diffuse', 'incoherent' or plain 'dull'; so let me make it clear straight away that in calling Bax's 3rd String Quartet elusive, I intend no slight to this absorbing, quicksilver work.
Written when his creative fires were on the wane, the last and longest of Bax's published quartets feels like an amalgam of Bax's earlier two, rich in contrasted moods and unexpected transformations. The opening Allegro according to the composer, quoted in Lewis Foreman's excellent liner notes, "was probably influenced by the coming of spring in beautiful Kenmare"; certainly this unbuttoned, volatile outdoor music, with its sunny intervals and sudden squalls (not to mention some Tapiolan textures) calls to mind the music of Bax's friend E. J. Moeran, with whom he often stayed at Kenmare in County Kerry. Its tricksy mood shifts, taut thematic debates and extrovert confidence are well caught by the Magginis, who never lose sight of the music's essential lightness of spirit.
Their gift for bringing off dangerously extreme dynamics is well displayed in the Poco lento which follows, one of the strangest movements Bax ever wrote. It begins with the sort of chordal chorale found late in the 5th Symphony, but this soon gives way to sinuous, oriental broodings from the viola, heavily reminiscent of Vaughan Williams's Flos Campi, which in turn transmogrify into a strutting pizzicato theme like nothing so much as one of those grotesque caricatures in the quartets of Shostakovich and Prokofiev. Fascinating stuff, and the Magginis hold together the disparate elements much more skilfully than their only recorded predecessors, the Amici Quartet on an old and rare Gaudeamus LP.
Bax himself wrote that "the third movement consists of two strongly opposed elements - a rather sinister and malicious scherzo, and a dreamy, remotely romantic trio". Precisely. Bax's structure is lucid and economical, and though neither here nor in the more straightforwardly bucolic last movement is the thematic vein so rich, the Magginis continue to make the most of the mood shifts and bold contrasts which yoke together this disparate but compelling work.
Once done with the main course, we are treated to two desserts, presented with equal mastery. The Lyrical Interlude is a glorious outpouring of Tristanesque romance, so close in intensity to Schoenberg's Verklärte Nacht that it's hard to credit this as a first recording! The slow movement from the unpublished, student work in E major later donned orchestral clothing as the tone poem Cathaleen-ni-Hoolihan, who proves no less lovely in her delicate, original String Quartet garb - another exquisite premiere.
Andrew Walton and Eleanor Thomason's well-balanced recording for Naxos is on a par with the earlier CD in the series; and given playing of such rare beauty, emotional precision and range, this is if anything even more revealing than that first Maggini Bax disc. At last the composer's String Quartets have emerged from the shadows to take their place, alongside Britten's three and Tippett's five, as the most distinctive achievements in the English repertoire.
©  Christopher Webber 2003