The Golden Age Has Passed – A Centenary Celebration of Bax by Michael Oliver
THE GOLDEN AGE HAS PASSED
A CENTENARY CELEBRATION
OF ARNOLD BAX
written and presented by Michael Oliver
THE SIR ARNOLD BAX WEB SITE
Last Modified March 21, 1998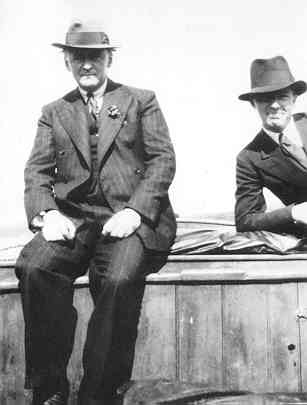 At Sherkin Island with Aloys Fleischmann (Junior) in 1934
Note from Robert Barnett: This is reproduced here with acknowledgements to the BBC, Michael Oliver and to all the participants. This documentary was first broadcast on Music Weekly on BBC Radio 3 in 1983 (Bax Centenary Year). It was repeated in January 1984. This is broadly a word for word transcript of the programme. It dates from some fifteen years ago and a number of the works mentioned here as rarities have since been recorded largely by Chandos.
The programme opens with the voice of Bax (AB) himself
Arnold Bax (AB)
It has been suggested that all art derives from a sickness of the soul just as a pearl is generated by a diseased oyster. A completely happy and healthy person, maintains this pessimist, would have no need for self-expression and would be content to laze all day in the sun like an Italian workman. Be that as it may, I think the theory holds good with regard to much of the romantic and introspective literature and music of the last 100 years.
The catastrophe of 1914-18 certainly threw a cloud upon the imaginations of men and bundled away dreams such as those in which I had hitherto indulged. Yet despite the restless and sombre mood of the world, or perhaps because of it, many creative artists continued with their work and even gained in strength. The demon of the times seized upon us and forced us to his will
[apocalyptic extract from first symphony]
AB
When my first symphony was performed in America I mentioned, in a programme note, that, as far as I was aware, the harsh and stormy work was an expression of pure music unassociated with contemporary events whereupon a New York critic upbraided me as the 'quibbling Bax' and added 'Of course this music, from beginning to end, represents the reaction of the composer's mind to the Great War.' These are deep matters and I must admit that scarcely ever in later years have I been tempted to return to the ivory tower of my youth even if I could find my way there.
Michael Oliver (MO)
Typical Bax: 'It has been suggested that art derives from a sickness of the soul.' He doesn't say clearly whether he agrees. The first symphony is 'pure music' but to the suggestion that it is about World War 1 he comments only that 'these are deep matters' and then in a non-sequitur, or covering his tracks, he must admit, he says (why 'admit'?) that 'scarcely ever in later years' (not 'never,' you notice) 'have I been tempted to seek again the ivory tower of my youth' and why did he add 'even if I could find my way there?'
Bax hadn't always been so defensively reticent. His biographer Lewis Foreman:
Lewis Foreman (LF)
Bax writes that he was absolutely certain that 'the only music that can last is music which is the outcome of one's emotional reaction to the ultimate realities of love and death.' And that is Bax's credo and you have to read his works in the context of that statement. Bax went on elsewhere to define 'genius':
AB
The smug cliché has it that genius consists of an infinite capacity for taking pains. I myself think it probable that all that remains really vital in the work of artists has been given to the so-called creator with little or no conscious effort on his part. It may be true that one must have chaos in the heart to give truth to a dancing star but no star was ever borne of a struggling intellect. All that can be said with certainty is that the truly inspired artist doesn't possess a gift … but is possessed by it as if by a demon.
[extract from symphony 1 - end of first movement]
MO
And that was written by a 'brazen romantic' as he called himself with a reputation for lush, richly-coloured music drenched in Celtic twilight. It is one of many violent contradictions in Bax let us begin at the beginning. A cultured family background and a very wealthy one. As a very young child the High Court Judge, Sir Melford Stevenson was a frequent guest at the Bax family - one of many frequent guests:
Melford Stevenson (MS)
Mrs Bax had a huge acquaintance among people, I think, mostly of limited means to whom she was unbelievably generous. She was known to a wide circle as 'Auntie Nelly' and the other recipients of her benefactions were known as her 'lame ducks.' I have never seen so many hungry people as there were under this vast dining room. I think they all had some artistic interest in common; not necessarily music. They certainly weren't anything to do with the theatre because this was a somewhat strict congregational household. I used to stay at a large house that they had in those days in Hampstead called Ivybank. It was a house with a lot of grounds and in those grounds was a music room which had been built for Arnold and one day Arnold took me into this room and he tried to make me reproduce a number of notes that he played on his piano ... and ultimately came to the conclusion that I was tone deaf - quite rightly. I think Arnold Bax properly, and understandably, regarded me as a crashing bore.
MO
Bax was rather apt to call people tone deaf. Perhaps by his standards they were. His musical gifts grew as naturally as his hair grew or his teeth. Already in his teens he was an excellent pianist and by all accounts a formidable score reader too. He was capable of playing the most complicated choral or orchestral pieces, at sight. He began improvising at the piano at the age of ten and composing not long after. By the way, another contradiction to ponder over: After his happy childhood and youth at Ivybank, presided over by the warm strong character of his mother (I always thought she would have made a very good queen, Bax said of her) … after Ivybank Bax never had a home of his own again - a succession of flats and rented rooms mostly. He never bought a house though he could have afforded several. He was ready for a full-time musical education by the time he was sixteen and if he chose his place of study it was a prescient choice.
LF
The thing to remember is that Bax went to the Royal Academy of Music and the teaching tradition at the Royal Academy and the composers who came from there have had a very bad press. Before the First World War it was thought to be the revolutionary centre of the new British music and the success … the publicity success … of all the Stanford/Parry pupils who came from the Royal College of Music have almost made out that this WAS British music and this isn't the case.
The pupils of Frederick Corder at the Royal Academy … these composers were a very real alternative British music. Corder wrote in his book on orchestration: 'The student finds the idiom of the past irksome and repellent. It is the vernacular he desires to learn.' … and then goes on to say … 'beauty is our one aim. Purely scientific composition: the fugue, the canon, the motet and the madrigal, no longer appeal to the modern mind and the goal of our ambition is the orchestral tone poem' so that I think Corder may have been laughed at by some people and his teaching method certainly seems to have been rather peculiar; not as scientific as Stanford's but he produced students who had a very individual voice.
MO
He did indeed. Many years after Bax, Alan Bush was a pupil of Frederick Corder:
A Bush (Alan B)
He was open to any composer who followed the style of Richard Wagner. Wagner was his god. In fact he had very little interest in Bach or Beethoven. I mean we were introduced to the works of Brahms but he didn't encourage us to study Brahms. He taught us, (though he was not anxious to teach us) but he was obliged to teach us, academic harmony and counterpoint in order for us to pass our exams. He was not interested in Palestrina at all. He did mention there was such a composer but he never had his works out on the piano or any thing of that kind. He was very allergic to French music since Gounod. Gounod was one of his very favourite composers … and Dvorak. Those were the two composers apart from Wagner to whom he introduced his pupils.
MO
While there is precious little Dvorak or Gounod in Bax there is rather more of Wagner and another composer, much promoted at the Academy, Liszt. What the Academy really did for Bax was to make him, at an impressionable age, open to impressions - open to the experiences that his comfortable circumstances made him free to explore and he was passionately eager to explore - perhaps the heart condition that had already been diagnosed sharpened his eagerness. He became convinced, he said, that twenty-two was the golden number in the count of a man's years. 'I longed to be twenty-two and to remain at that age for ever.' And so during and immediately after his student years he spent lengthy periods in Germany where he was at the first production of Strauss's Salome as well as visiting Norway and Eastern Europe.
In England he struck up friendships with poets and artists as well as musicians. He met Elgar and mixed with the followers of William Morris. At the piano he explored new music and old. And there were the still more important experiences of Ireland and of Russia which we will come back to. He also fell in love several times and we shall come back to that too. One of his friends, at that time, Eleanour Farjeon said 'he was as sensitive as a candle flame.' It is as though hungrily seeking out experiences as if time were already running out. He was discovering the philosophy that he expressed many years later. 'I cant help being a primitive being. I believe in conditions of ecstasy: physical or spiritual and I get nothing from anything else. I think all the composers who appeal to me: Beethoven, Wagner, Delius, Sibelius - were primitive in that they believed that the secret of the universe was to be solved by ecstatic intuition rather than by thought. Such a composer perhaps inevitably divides opinion; perhaps inevitably needed streams of fame and oblivion; perhaps inevitably wrote music of uneven quality. Can we justly assess him even now that his centenary year has passed?
The conductor, Vernon Handley, distinguished interpreter of Bax's music:
Vernon Handley (VH)
To me the importance of a composer is in his establishing new moods and reaching out to that language which will eventually gives the listener a different philosophic concept of life. And Bax does this. And I think that the difficulty is, not only because people tend when playing him, or conductors when reading him, to link him with composers whose language isn't like his at all but has just a few superficial connections either through orchestration or chromatic tones but because the moods are remote. For instance if we say Britten is very influenced by East Anglian mornings, it is not a criticism. The moment we say 'Celtic Twilight' about Bax - it is. And that's the nub of the question - that he reached out to moods that are western and northern and which are not readily accessible to people who live from the Midlands downwards. Unfortunately we do the same thing with him that we did with Vaughan Williams and Holst. Because when we look at Sibelius, because he is a foreign composer, it is all right for Sibelius to reach out to those northern stark moods but not for an Englishman.
I think the other great difficulty is that someone said, a long time ago, that it is very difficult to see the wood for the trees in Bax because the beautiful melodies, the superb orchestration and the very searching chromatic harmony tend to clothe the bones in such a way that we do not appreciate that the bones are there.
[Slow quiet hymn-like section of Symphony No. 5.]
MO
Bax's Fifth Symphony - romantic but scarcely brazen. Not much either of what one critic shortly after Bax's death called his 'soggy, shapeless, easy sentiment' nor what has been called, more than once, his 'chromatic wallowing.'
VH
This is another misunderstanding of him: that because he has a searching chromatic, harmonic language we tend to link him with composers whose language we know better. When you first conduct Bax with an orchestra that has not played any Bax before, they inevitably play it as a cross between Richard Strauss and Rachmaninov and it is only after a while that you can draw to their attention that there is great deal more polyphony in Bax than in either of those composers and that there are often a lot more accents; that it is really tough music. The romance of Yeats … it is not the romance of Wordsworth. One of the characteristic moods of Bax is something that he achieves better than any other composer, I think, who has ever lived .. is that extraordinary strength of melancholy which one does find. And one has to turn to Celtic folklore and ideas and one does find in the Celtic character the visionary who is always seeking something and who is never quite satisfied.
Because he is a romantic composer and because he does deal in moods and, as he said himself, romantic states - emotional states - he will, by his unity in any symphony (I think particularly of the 2nd, 3rd and 4th symphonies where all the movements grow out of material that he gives you very early on in the first pages of the symphony) … he will for that reason create an overall mood for a symphony. You can characterise the 4th as bluff, and the third as sunny with clouds and so on. But then these emotional states tend to suggest their programme. They tend to ask you to enter a world where you will create your own feelings and stories and he is undoubtedly a man who is inspired more by the moods of nature than by the moods of mankind. The first symphony particularly, I think, is weaker because it is contentious than for instance the sixth symphony which is a much more universal mood symphony because it is influenced not only by his experiences up to that point as a countryman but also because of his grasp for much more universal moods - the kind of moods that Sibelius grasped in nature. It even makes me think of Sir Fred Hoyle's latest lecture, the Fremantle lecture, about universal intelligence and whether composers who have gone through their romantic states have not reached out for the influence of universal intelligence drifting down through the atmosphere to us.
[Section from closing pages of symphony no. 6.]
MO
It is moments like that - the epilogue to the sixth symphony - that one wonders where Bax's reputation as a rhapsodic wallower came from. From his lesser works, of course, and there are more than a few of them! There is another source as well, though. The composer and critic, Anthony Payne:
Anthony Payne (AP)
Bax suffers from bad performances more than many late romantic composers because of the complexity of his textures. I think performers sometimes don't realise where, to borrow the Schoenbergian term, … where the 'hauptstimme' is. You just hear this wash of sound and they think of it as being texture when in fact quite often there is a very strong line to be discerned - but the players don't seem able somehow to find it. I mean there are contrapuntal elements in Bax. You find it in the first and second symphonies - these great themes which spring right up from the bass like some primeval thing. That is quite often a very powerful element in his scores and it has to be brought out. I mean the conductor has to be very sympathetic because when you've got a whole orchestra with all sorts of layers of activity going on you have to have an extremely sensitive conductor and a lot of rehearsal time to get these things straight.
VH
He is difficult in the way that Mozart is difficult because as his themes undergo metamorphosis so you'd have to move as a conductor in this way. You have to convey to your orchestra very quickly that something that was, how can we put it, grotesque, two moments ago, is now extremely delicate and poised. That's hard to do. One thinks particularly of the third movement before the epilogue of the Third symphony. The moods are changing by uneven groups of bars as quickly as he can state the material so it is extremely difficult to get that across. Orchestras tend to go into the next mood with a hangover from the one they've just had and because the language is not familiar to them, it is very very difficult for them to change.
[extract 3rd symphony]
MO
Once the performing difficulties have been negotiated the temptation to play him like the composers whose scores his superficially resemble you begin to realise that Bax's best music creates a sound-world that doesn't at all resemble anyone else's.
AP
I remember, the other day, going to a concert - playing a game, like I often do, of not looking at the programme to see what I was actually about to hear. I just like to be surprised sometimes. I was trying to spot what the music was going to be by looking at the orchestra as it was assembling. Two harps, I saw, and a big array of percussion and wind and brass and the conductor came on and he began to conduct and it was the beginning of Tintagel. [Tintagel begins in background] Hearing it like that, as a sort of surprise, was an absolute knockout. I hadn't heard it in the hall for a few years and I thought: what a fantastic ability to conjure up a whole world with one texture within a bar. You're being sucked into that music. I mean … I think that really perhaps is the brazen romantic … the accuracy, the precision with which he actually embodies his own emotional world.
[Tintagel plays in foreground]
LF
Bax translated natural sounds into music. I think it was Patrick Hadley who wrote: 'Bax writes sound; he doesn't write music.' I certainly think he listened to the sea. The fourth symphony again is a case in point. There is a lot of sea music in the fourth symphony. I think it is arguable that there is sea music in the Seventh Symphony but it may well that this particular method of writing had become such second nature to him that he just used it without intending the association.
AP
Visual things come into his music rather a lot. They certainly do in Fand and, I mean, November Woods, I mean, you get the feeling in November Woods … of storm-tossed landscape. But this is only really a metaphor for what is going on in his own mind and heart. It is all to do with feeling and it is one of those rather complicated situations where the feeling is reflected in landscape also in the music.
[November Woods extract]
MO
Bax's November Woods is about what it says it is about - the howling of wind through leafless trees in winter but it was also written at a time when he was violently torn between his wife and family and the woman he had fallen in love with - the pianist, Harriet Cohen. Just as Tintagel is about the sea, the castle of Tintagel and the legends surrounding it, of King Arthur and Tristan and Isolde. But the music was conceived at Tintagel during a blissful holiday there Harriet; all of which might suggest a wildly instinctive composer listening to nature and his passions without thought as he rather providence-temptingly or critic-temptingly put it. Was he, in a word, a 'slapdash' composer?
LF
Bax was very concerned that his works were formally cogent and there is not much luscious wallowing in Bax but, by and large, I think the problem is that they have underlying programmes. Not, some of them, specific, others of them general - which we don't know. Certainly in the first two symphonies where he was sublimating particular personal events in archetypal terms and I personally think that unless one appreciates the first two symphonies one cannot assess Bax. The programme notes for the first symphony do give you a bit of help. Various people have guessed that it was the first world war which critics of the time came out with. It did just post-date the general break-up of his family background; him leaving his wife and his father dying but I, personally, think the civil war in Ireland is the most persuasive of these various interpretations. And this is not necessarily Bax either giving a description of events. This is Bax, the dreamer, throwing up a cry of despair at his dreams having gone sour.
[extract from Bax symphony no. 2]
AP
His music is certainly inspired from within from his own personal life, from his emotions. I think there is no doubt about that and I think that is where the great flaw is in Bax's artistic nature. He didn't have the ability to grow as a human being. It is interesting that if you read his letters and the things he was increasingly preoccupied with during the late 1930s and 1940s they are always going on about how he was growing old and he would never be young again. He didn't have the sort of nature of the really great artist to make a triumph of old age. He could only see the sadness of growing old. In some of his works this quality is extremely moving - very poignant - but it is a limiting factor in his music and I think that is what happened to him. It was a personal failing. There is a really fantastically uninhibited quality about Bax when something seems to have touched him off and of course it's usually to do with his own painful feelings about his own emotional life. He was a very passionate and wild human being and the sad thing is that when his own feelings began to give out there was nothing to take their place artistically. Not for him the late period of a Beethoven or a Bach - where you get a sort of Olympian detachment - a totally different way of looking at the world. When the fires burnt low with Bax, I think he was finished and was a very very sad figure.
LF
Yes - I think the fire literally went out of him and although as I say he did write a number of very fine works, and perhaps more reasoned works than some of the passionate works of his earlier years, the power of the first and second symphony was never regained except perhaps in passing. I mean the climax of the 6th symphony which is not a triumphal climax at all is a real farewell to the world.
[climactic section of third movement of 6th symphony]
MO
'A headlong collision between beauty and brutality' was how one Bax enthusiast, Peter Pirie, described that. Lewis Foreman called it 'Bax's farewell to the world.' Why so despairing a farewell from a man barely turned fifty? Well just turned fifty is a long way after the golden number of twenty-two. Bax dreaded growing old. His daughter Maeve:
Maeve Bax [MB]
No he didn't like it. In 'Farewell My Youth,' if you've read that, he said: no there's no compensation for growing old. Like he said once when he was in the train and saw the sunset and thought it can never be again. I don't know whether you would say a feeling of doom but a feeling of the passing of things.
MO
I never felt closer to Bax than in his daughter's company. She looks like him for one thing and talks, I imagine, much as he did. He was a remarkable pianist who was too shy to play in public. He wrote music like that savage climax to the sixth symphony and yet she remembers him with great affection as a very quiet man:
MB
He was so observant, you know. He was very shy. He took in everything. I remember that my mother said that when they were in Ireland he used to go for long walks and he always walked looking down and she saw this wonderful thing and when he came home he could tell her everything they had seen and passed through yet it didn't seem as though he was looking. He always seemed to be taking things in and he liked to observe. I know he said he loved being in gatherings of people - you know - when people are very happy and enjoying themselves - he just loved that - but he liked to sort of stand there and observe. He just sort of stood there looking - you know, taking in everything - rather like a cat. He hid his feelings. But he was very shy. He had such a fey kind of atmosphere about him. Well I'm very inarticulate too, need I say, but he was … he just sort of drifted into this and that you know and things I asked him about.
MO
He sounds the sort of person one could be at ease with without actually needing to talk all the time.
MB
Yes. Yes. That's just it. Now you've hit the nail on the head. That is a bad way of putting it. Yes that's true. He was very easy to get on with and a sort of nice presence you know - quiet.
MO
We've said a lot about the possible underlying programmes of Bax's music and how much of it derived from some inner impulse. We've also heard Bax maintaining that he wrote 'pure music'. But we've heard that he hid his feelings. The two most important inner impulses beneath Bax's music were Ireland and love but you can rarely say that his music is simply about either. In 1910 suddenly and passionately in love with a Ukrainian girl, Natalia Skarginski, Bax followed her to Russia. She was flirtatious but fickle and announced her engagement to someone else while Bax was still in Russia but the splendid piano sonata that he wrote there isn't only about that wounding experience. It is also about the landscape of Russia and its bells and churches and about the music of Balakirev and Rachmaninov and Scriabin.
[excerpt from piano sonata no. 1]
MO
Bax endured his loneliness in Russia, he said, by accumulating impressions 'for future service to my art.' Within six months of his return he was married. The marriage didn't survive the arrival in his life, a few years later, of 'the wonderful stray creature of the faery hills' as he calls her, Harriet Cohen. But the sequence of works he wrote in his first years with her aren't again simply about her or their love. They have to do, as well, with Ireland, and the sea and, what Vernon Handley called, 'moods that are western and northern.'
About ten years after leaving his wife for Harriet Cohen, Bax had dinner with an old friend, Grant Oliver, who brought along a young friend of his, a girl of twenty-three, called Mary Gleaves.
Mary Gleaves (MG)
We sat down to the meal. I was very very shy and could hardly look up from my meal to either look at them or to hear what they were saying but they were quite happy talking music amongst themselves and Grant Oliver suddenly said that 'My friend Mary Gleaves is very shy so I hope you won't mind if she doesn't have much to say,' and Arnold promptly said, 'Well I think I'll try not to move too quickly because if I do she may run away,' and that at the end of the meal we parted under the underground and as we parted Arnold walked away and turned around and I simultaneously turned around too and we waved goodbye to one another.
MO
Bax had always called himself a tireless hunter of dreams. Mary Gleaves brought him, he told her, the glamour and ecstasy of the dream world. 'You are the loveliest thing that has happened to me.'
MG
1930 and he came to see me one day and he said 'I've got some idea - I wonder if you will like it - to go off to a lovely place in the Highlands of Scotland to orchestrate the work I am doing and I wonder if you would like to come with me.' So I said I thought that was a lovely idea and so off we went to that beautiful place in the North-West of Scotland called Morar. It was about October, I should say, and the weather was very beautiful - lovely, lovely sunny days and we had a very happy time there, he doing his work and I reading. He usually worked in the morning for several hours - 2 or 3 hours and then we would have lunch and we would go for these long walks and come back in the evening. It was lovely coming in to the little sitting room with a huge fire burning up the chimney. We would have supper in our little sitting room and then he would get back to working on his music. And it was then that he would ask me to read aloud. He would just sit down there working away and after some pages he would look back over what he had written and start conducting - imagining it being conducted and hearing, of course, the full scoring that he had written down.
[symphony no. 4 - quiet magical section]
MG
In the summer time we used to go to places on the Thames. Wargrave, Pangbourne and Marlowe. Marlowe was the first place he ever took me to on the river and that was quite a beautiful day and he referred to it ever after as 'the green and gold day' because it was golden sunlight and beautiful green of the spring countryside and I think he wrote a little poem about it. Also during these visits to the river places - usually in fact almost always in the early summer ... and he had given me the Oxford Pocket Book of Wild Flowers. And we would be walking along a lane and I would stop by the hedgerow examining the various parsley families trying to identify them from my book and after five or ten minutes I would get up in order to join him and I would see him a long way down the lane walking along with his head slightly inclined downward and one hand behind his back: he with his music and I with my wild flowers. So that was one thing: I knew we were perfectly happy: walking side by side in absolute silence.
[extract from 4th symphony]
MO
Bax's 4th symphony written in Morar - while Mary Gleaves read to him with memories of silent green and gold days - but it is, besides, a symphony. It is entirely characteristic of Bax that Harriet Cohen didn't learn of Mary Gleaves' existence for twenty years. Bax would return from Morar to Harriet and pick up another life - which of them was he living with?
The inner impulses beneath his music, I said, were love and Ireland or something that Ireland best represented. He was eighteen when he opened a volume of verse at the words 'Sad to remember, Sick with years…" and a few lines later 'But the tale, though words be lighter than air, must live to be old like the wandering moon.' It was W.B. Yeats' 'The Wanderings of Usheen.'
AB
The poetry and prose of Yeats introduced me to the Irish faery hierarchy and the magnificent heroic sagas of his land. There were three different earthly paradises as conceived by the ancient Gael. One: The Hollow Hill; Two: Hy-Brasil or the Land of Eternal Youth situated in an enchanted island in the Atlantic said, sometimes, even now, to be glimpsed in the Western seaboard of Eire; and Three: Moy Mell - The Pleasant Plain. I wrote tone poems about all these three pagan places of bliss. In the Faery Hills (the Hollow Hill); The Garden of Fand (Hy-Brasil), both orchestral works - and Moy Mell, a piece for two pianos. I think I may claim, in all modesty, that I was the first to translate the hidden Ireland into musical terms and all this I owed in the first place to Yeats. His was the key that opened the gate of the Celtic wonderland and his the finger that pointed to the Magic Mountain whence I was to dig nearly all that may be of value in my own art. Neither does my debt to that great man end there: for his poetry has always meant more to me than all the music of the centuries. All the days of my life I bless his name.
MO
Bax soon became, in his imagination, more Irish than English. He found a magic place in the west of Ireland which he returned to again and again for the rest of his life: Glencolumcille - The Valley of the Church of Columba: a village between towering hills looking out across the western ocean towards Hy-Brasil. The Ireland of Yeats and of the Republican leader, Patrick Pearse, was part of the youth that Bax spent his later life achingly remembering. The sister of Harriet Cohen, Myra Verney:
Myra Verney (MV)
It occurs to me that one could perhaps compare Bax's involvement with the Irish cause with Wordsworth's involvement with the French Revolution when to be alive in that age was a wonderful thing. That it was the romantic being involved in the idea of revolution - of the readjustment of injustice.
MO
And a friend from Bax's later years in Ireland: Ann Crowley:
Ann Crowley (AC)
Arnold loved Ireland so intensely that when half his holiday was over he began to be sad and withdrawn. From his earliest days he was accustomed to visit the West: Connemara, Donegal and probably Kerry with his sister Evelyn. When I took him to hear famous records of Irish music he was able to tell the collector from which county, even townland, they had come - even the name of the fiddler who played them or the singer who sang them. He had an extraordinary memory for anything pertaining to Ireland. He tells us again and again how it influenced his music. About the Garden of Fand he writes - 'my own favourite among all my works. I was 29 when I wrote it and it was all literally given to me by Ireland.'
[section of Garden of Fand]
MO
The Garden of Fand. Fand being, in ancient Irish folklore, the daughter of Mannanan, Lord of the ocean. Her garden is the western sea that Bax saw from his windows at Glencolumcille. There is so much of Ireland in Bax that some of him can only be found there. In Cork especially which he visited every summer for years where he stayed with the Fleischmann family, I felt a strong presence of Bax when talking with Aloys Fleischmann, Emeritus Professor of Music at University College Cork in the College's Bax Memorial Room which contains, presented by Harriet Cohen, all the published music and many manuscripts including the piano score of a complete ballet that was quite unknown to me: Tamara.
Aloys Fleischmann (AF)
That's very interesting because when we got it I wrote to Karsavina to ask her whether the ballet had been performed because it was dedicated to her: 'To that divine dancer whose art has inspired this work.' And her reply was astonishing. She said she had never heard of it even though she had commissioned Bax to write a work for her and knew him really well. But he never mentioned that he had written a work for her so I presume what happened was that he decided he would write a work for the Diaghilev company that was coming to London in 1912. When the company made its programme known it included Thamar by Balakirev. So Bax appears to have decided 'Well that's that: Balakirev has done it, so there's no point in doing any more.'
MO
It is very curious that he should have gone to all the trouble to write this score and then, on learning that something vaguely similar was being performed he should just have apparently dropped it without a word.'
AF
Well this was rather typical of him. He was like that.
MO
Did he often just leave works in his bottom drawer - forgotten?
AF
I would say so and that's why out of his enormous output so little really has ultimately come to light.
MO
So do you have other works in the collection here that are little known or actually unperformed.
AF
Well Into The Twilight was done once by Sir Thomas Beecham in 1908, I think and the next performance was with my orchestra in Cork about ten years ago. We've also got Cathleen Ni-Houlihan. That I think was done once or twice at the Academy but hardly performed since then.
MO
This room contains not only his printed music and manuscripts but over there in another glass case a most extraordinary collection of miscellany. Chessmen - was he an avid chess-player?
AF
Oh yes.
MO
And there are a number of pipes. I've certainly seen photographs of him smoking pipes.
AF
Yes we have a collection of his pipes.
MO
We have here Ordnance Survey maps of Donegal and Enniskillen. Did he know the countryside of Ireland well?
AF
Well he certainly knew Donegal and he had spent a little time in Kerry. Then we brought him right around West Cork. Every year he came we brought him on picnics and he enjoyed these terribly especially the Irish place-names used to intrigue him because he had quite a good knowledge of Irish and he used to go round and produce very fanciful notions as to how these words were derived and sometimes a motif arising from one of these place names would crop up right through the day like a fugal motif you see. He was very witty and a marvellous companion.
AC
During the war I sent Arnold an Irish dictionary, knowing how he loved the language and to distract him from the bombs and planes zooming overhead. He wrote that he spent hours poring over it at night then followed a great attempt to write to me in Irish. When his mother died I sent him a letter of sympathy in Irish. He wrote: 'I value this letter and your prayers more than I can say. Aoine, I love your Irish literature. They are more charged with feeling than anything you could write in English - why I don't know - perhaps because there is a secret strangeness and intimacy in the old old language like the scent of the turf smoke on the wind.
AF
There is a manuscript here in that language.
MO
Is that in his hand?
AF
Yes, certainly he started translating Synge's In The Shadow of the Glen into Irish with the help of a friend - a teacher in Donegal. And his Irish must have been good because he actually took down the words of several folk tunes and one of these is written there in his own hand and it requires considerable knowledge of the language to understand what a folk-singer is singing and he also there sketched his own efforts to translate his own name into Irish. He calls it 'Ardgail Bacs.'
MO
What else do we have here?
AF
Well, the publications - the short stories Wrack, The Sisters and Green Magic and Children Of The Hills. These are three books of short stories.
MO
These of course were published under the pseudonym Dermot O'Byrne and those poems suggest to me somebody not just sympathetic with Ireland but sympathetic to the Nationalist cause.
AF
That's true but his Dublin Ballad, of course, is a famous poem. Yeats said, in a Dublin drawing room, that it was the best poem to come out of the period in Ireland. And he said that gave him, more pleasure than any praise he had ever got for any of his music.
MO
And were not some of these poems actually suppressed at the time?
AF
Censored - yes.
MO
Oh write it up above your hearth And troll it out to sun and moon To all true Irishmen on earth Arrest and death come late or soon
And when the devil's made us wise Each in his own peculiar hell With desert hearts and drunken eyes We're free to sentimentalise By corners where the martyrs fell.
MO
This is from Bax's poem, A Dublin Ballad, published under the pseudonym of Dermot O'Byrne and suppressed by the British authorities in Ireland. Aloys Fleischmann being an authority on Irish folk music I asked him about the much discussed question of whether there was a truly Irish element in Bax's music.
AF
Oh yes. No end. For instance there is a very fine rhapsody for viola and orchestra which is full of Irish material. The only time he actually seemed to use an Irish folk-tune was in the finale of his G Major string quartet. There's a rondo there and the second episode sounds just like an Irish tune. When it was performed in Cork the audience said: 'Ah at last he has taken a natural tune.' Now in fact the tune is a hybrid. Bax said, himself, he had not used an Irish tune. He thought it was a tune rather characteristic of Irish folk melody and the fact is that one of the phrases is The Foggy Dew but the other phrases - they're very close to Irish folk music but I don't think it's possible to place them so what he did was - I think he constructed a tune which he felt to be typically Irish in the form ABBA and that's the second episode - that gave great pleasure to the Cork audience when they heard it:
[Finale of String Quartet No. 1]
MO
Not many books on music in Bax's collection, I noticed. Not many words about it in his conversation.
AF
He never spoke about his music at all. Well you know that when he was in Dublin consorting with Yeats and AE Russell they didn't even know that he was a composer. They thought he was a literary gent. He never mentioned the fact that he wrote music. He used to produce some very eccentric notions about other people's music. His notions about the classical repertoire were very strange: Bach was sewing machine music; Schumann and … Beethoven even … only wrote good music when they were forming their styles. After that they repeated themselves. In old age Schumann petered out and Beethoven went in for rather sterile experimentation.
MO
That is a curious reflection on his own often stated fear of growing old.
AF
Well probably that was the reason he feared it so much. He was afraid that he would not be able to keep up his flow of composition at the same fluency he had always been able to master. Well I do feel that his bitterness as a result of what he felt was the neglect of his music. I think that did, to a certain extent, curb his creative urge.
MO
He spoke with bitterness of that did he?
AF
Very little but I did hear him say that he ... that most people now - specially the younger generation - felt that he was past his time - had become 'Old Hat.'
MO
They were sad - those last years. There were honours, yes: honorary doctorates, knighthoods, the Mastership of the King's Music - but Bax was now in fact what he had apprehensively felt himself becoming - what he'd so terribly feared - he was old; not very old - he never saw his seventieth birthday. The memory of youth was bitter, not warmly nostalgic and although he went on composing he was tending the embers with little hope of a flame rising and he knew it. Alcohol dulled the pain a little. He came to rely on it more and more and there were fewer and fewer performances in those last years. In his last summer Mary Gleaves met him at one of them.
MG
And he said wait for me after the concert which I did do and when I joined him he walked by my side and said 'were you proud of me?' and I said 'yes, of course I was.' but I was very unhappy about it because it was a very unusual thing for Arnold to say because he would never as it were draw attention to himself and somehow on that particular occasion he wanted to do so.
MO
And not long after that concert Bax went again to visit Aloys Fleischmann, and his wife Ann, in Ireland. It was his home if ever he had a home.
AF
What happened was that he was a visiting examiner to our College and when the examinations were finished he was taken by a friend of his to the old Head of Kinsale. It was an evening - a marvellous sunset and he stood at the very tip of the old Head looking out into the West - now he says in his autobiography that he would like to think that upon his death-bed his last vision would be (end of Fand begins to play in background) the deep, brooding, dove-grey mysterious Atlantic. I cannot but think that while he was standing there he must have remembered that the performance of The Garden of Fand which we had just had in Dublin the previous day - actually which I conducted with the RTE Symphony Orchestra - and I do feel that when he looked out into the Atlantic there the whole background of Fand must have been in his mind because he was lost in thought and finally he had to be aroused from his reveries and brought home and within a couple of hours he was dead. Heart failure.
[Fand continues to end]
AC
He went upstairs. He'd take no help anywhere. He undressed and he washed and he went into bed and I said: 'We'd better get a doctor, Sir Arnold.' and he said, 'No Ann. Please - you know I hate fuss. 'Well,' I said. 'Still I think you should have one.' and he said. 'No.' so I left him and I went down stairs and telephoned my old professor of medicine and I told him and I said 'Would you come up because, to me, he is a dying man.' and he arrived in quarter of an hour. Sir Arnold was perfectly conscious and the professor injected whatever you should do for his heart. By that time he was failing too much that it didn't really get into his circulation and he never got going properly … and there was no good in having a minister of any kind because he always said he didn't believe in anything - that the Muslims were the nearest you could get - which was a rather shaking experience. Then he just thanked the professor and he thanked me and he turned to the wall and within twenty minutes he was gone.
[Epilogue of Symphony 3 plays out to silence]
Announcer
The closing bars of the Third Symphony of Sir Arnold Bax. The Golden Age Has Passed - a portrait of the composer, was written and presented by Michael Oliver.
The producer was Graham Sheffield and that programme was first broadcast last year in Music Weekly.
The text is copyrighted by BBC Radio 3