Sirius Ensemble concert at the Royal Academy of Music reviewed by Christopher Webber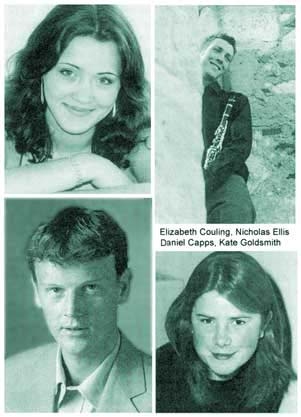 Duke's Hall, Royal Academy of Music 
Sunday 23rd February 2003 at 3pm
Concert Review Elgar: 'Cockaigne' Overture op. 40; Bax: Concertante for three wind instruments and orchestra Elizabeth Couling, cor anglais; Nicholas Ellis, clarinet; Kate Goldsmith, horn; Sirius Ensemble c. Daniel Capps
THE SIR ARNOLD BAX WEB SITE
Last Modified February 26, 2003 
---
Review by Christopher Webber
This concert was the first of three Royal Academy events, devised by Nicholas Ellis, to mark this year's 50th anniversary of the death of one of their most famous alumni, Arnold Bax. Further Bax-dominated concerts take place on Monday 24th and Wednesday 26th March 2003, and over the next two terms. A well-directed, forthright performance of Elgar's unsinkable Cockaigne, marked by the thrilling exuberance of the trombone section and mellifluous playing from the strings, preceded the item of special interest—Bax's rarely performed Wind Concertante of 1949.
For many the later works of Bax display a weakened compositional grip, a substitution of tepid watercolours for the vast, fiery canvasses of his prime. On this occasion, though, the pastel shades of the late Wind Concertante proved to have a distilled beauty very much their own. Each of the first three movements is well crafted for its solo instrument—cor anglais (Elegy), clarinet (Scherzo and Trio), and horn (Lento)—and clearly differentiated in mood and texture. The vital fires may burn dim, but as with late Richard Strauss the charms of emotion recollected in tranquillity inform almost every bar.
The plangent, pastoral cor anglais Elegy—described by Bax himself as a lament for Robert Emmet and Sarah Curran's tragic 1803 love affair—is the most developed of the three, with its intrusive, broken marches and the touching quotation near the end, on solo violin, of the Irish song "She is far from the land". Couling's solo work was exceptionally communicative, and leader Lowri Porter's playing of the tiny Irish quotation was equally finely judged.
The jaunty Scherzo and simpler 'slow movement' for the horn contrast effectively with the marvellous Elegy, and both were well played. Only the last movement, with the three instruments in tandem, seems perfunctory. Bax was perhaps more interested in one-to-one talk than the party spirit, and having brought his diverse soloists together he loses interest in what they might have to say to one another. But for the rest, this turns out to be a substantial work of symphonic length which amply justifies itself in performance—at least one as satisfying as that by the Royal Academy's virtuoso Sirius Ensemble under Daniel Capps' sensitive direction and these three most promising players.
Aside from the pleasure afforded by the work itself, the evident delight which the young executants themselves took in it was specially heartening. It seems the time when Bax's music could be treated with condescension by a generation eager to write off his music as Old Hat is at long last behind us.
Copyright ©  Christopher Webber