Sir Eugene Goossens Conducts Bax on Dutton– Review by Christopher Webber
THE SIR ARNOLD BAX WEB SITE
Sir Eugene Goossens conducts Bax
Review by: Christopher Webber
4th June 2007
Arnold
Bax: Tintagel 1, Mediterranean 1, Symphony No.2 2; John Antill: Corroboree – ballet suite 3 ; Eugene Goossens: Tam O'Shanter Op17a 0  
New Symphony Orchestra 1; BBC Symphony Orchestra 2; Sydney Symphony Orchestra 3; Royal Albert Hall Orchestra 0; c. Eugene Goossens
[Rec. HMV 1928
1
; BBC live broadcast 1956
2
; Aust. HMV 1950
3
; HMV 1922
0
]
Dutton CDBP 9779
[TT=72:19]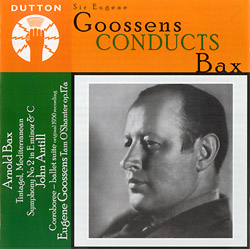 A shadow still hangs over the posthumous reputation of Sir Eugene Goossens. The 1950's tabloid saga involving sex, witchcraft and a world-famous conductor arrested smuggling pornography through Sydneyairport has made for juicy plays and novels down the years, so  credit to Lewis Foreman in his notes to this enterprising issue for not so much as mentioning Goossens' fall from grace. Instead the focus is where it should be – on the man's talents as conductor and composer. If the composer is only represented by the 3-minute squib from 1922, no match for Malcolm Arnold's popular overture of the same name, the conductor is better served.
Tintagel
and
Mediterranean
were the first ever Bax orchestral recordings, and remained the only ones available of these two works until well after World War II.
Mediterranean
is a well-drilled, no-nonsense reading which doesn't overplay Bax's slight hand. Though it doesn't capture the lilting, Waltonesque caprice Boult conjured in a live LPO performance briefly available on BBC Classics CD, it's at least as fresh a performance as any rival studio reading. The recording doesn't catch all the nuances of Bax's delicate scoring, but at least we sense they are there.
Tintagel
suffers from a tiny cut (the two bars on growling cellos and basses kicking off the turbulent
fugato
in the middle section) but it's an equally direct performance, still the swiftest on record. Exhilarating, not so strong on poetic introspection as some later versions, it wears its years remarkably well. Both tone poems are also available on Symposium, whose non-interventional transfer has more audible treble, more hiss and too much peak distortion. Dutton's smoother mastering is much preferable, enabling us to appreciate the music making more directly. If I'm less enthusiastic about the off-air
Symphony No.2
, that's no reflection on Goossens' vigorous attack and dramatic intensity, as impressive as any conductor recorded in this most urgent, dark and sinister of Bax's symphonies. It was an astute move by the BBC producers planning the 1956 memorial broadcast cycle to engage Goossens for this one work. It fits his tight sense of control like a glove, and with the notable exception of some dodgy violin solos from their leader, he inspired the BBC Orchestra to give of their best. If only the original master tape could have been found. What we hear sounds like a once-removed copy at best, with little dynamic range and muddy detail at anything above
mezzo forte
. Some of it's nearly inaudible. Dutton have done their best by the material, and anyone knowing the work well from a stereo version such as Fredman's similarly incandescent reading will enjoy hearing the Goossens once. Newcomers should steer clear. The Bax starters and main course are followed by an incongruously ripe dessert. John Antill's "Aboriginal Ballet"
Corroborree
is an exotic flower crossing the rhythms of Stravinsky's
Rite
with Milhaud's Brazilian jungle colours, and with a percussion department banging and blowing a cupboardful of objects scarcely to be mentioned in polite society. The piece enjoyed a brief vogue under Goossens in the post-war years; and to be fair it did push Australian music into the 20th century, preparing the way for the pantheist tone-paintings of Peter Sculthorpe, as well as Malcolm Williamson's
The Display
, a much more personal balletic expression of the ethnicity Antill pioneered. Goossens recorded it twice; and though the later stereo recording for Everest is more vivid it's currently not available, so this release of the 1950 mono HMV recording is welcome. It certainly shows off Goossens' familiar iron-grip and unflinching sense of momentum as positively as the Bax tone poems. A pity about the sound of the
Symphony
, for otherwise Dutton's adventurous issue is to be recommended. © Christopher Webber 2007