Richard Adams reviews new recording of Bax's Spring Fire on Halle Orchestra's English Spring CD
English Spring – music by Bax, Delius and Bridge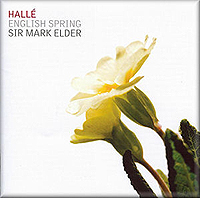 Hallé Orchestra;  Sir Mark Elder, conductor
Hallé CDHLL7528
 Review by Richard R. Adams
---
I can't believe I'm actually writing this but I wish the producers of this disc had scrapped this live performance of Bax's
Spring Fire
and in its place given us either a complete performance of Delius's
North Country Sketches
or a disc devoted entirely to Frank Bridge's orchestral music.  Now my allegiance to Bax is second to none and I'm passionate about 
Spring Fire
, which for such a young British composer to have written in the years just before World War I is astonishing considering how advanced harmonically it is compared with almost everything else that was  being written at that time by Bax's British contemporaries.  What this disc demonstrates is Elder's gifts as a master Delian and likewise his performance of Bridge's
Enter Spring
is the best I've heard since Sir Charles Groves classic EMI all-Bridge recording from the 1970s but this live Hallé account of
Spring Fire
– a Mark Elder specialty – is for me a bit of a disappointment especially when considering the magnificent performances he's directed of it in the past.   So what went wrong? Sir Mark Elder fell in love with
Spring Fire
almost immediately after hearing Vernon Handley's RPO Chandos recording from 1986.   Elder first conducted it at a Proms concert in 1996 with the BBC Symphony Orchestra and later with the City of Birmingham Orchestra, the Chicago Symphony, the Netherland Radio Symphony Orchestra and last year with his own Hallé Orchestra and it's this latter performance that is on this disc.   There's no denying the control and beauty of the Hallé's playing and Elder is as sensitive as ever to the rapt moods of this work but it's his handling of the scores' rambunctious inner movements that to my ears sounds strangely cautious and slow.    Comparing this performance to the wonderfully alive and vital account he gave with the BBC Symphony in 1996 (that has never been released on disc but needs to be as it's the best performance of the work I've ever heard) makes me wonder if Elder's view of the music has significantly mellowed or are his slower tempos the result of a lack of rehearsal time with an orchestra that as far as I know has never played the work before.   I suspect the latter and I hope Elder will again perform
Spring Fire
with the Hallé as it's obvious they responded to the music with some wonderfully sensitive playing; particularly in the glorious coda of "Woodland Love", which was undeniably magical. This is only the second commercial recording of
Spring Fire
to be released and anyone investigating the work for the first time should stick with Vernon Handley's 25-year old Chandos account despite the overly reverberant acoustic that annoyingly blurs a lot of the orchestra detail but as a performance it is everything you'd expect from Handley in Bax – including his unerring sensitivity to the ever-changing moods and kaleidoscope of colors while at the same time holding the massive frame of the work  together without ever sacrificing the expressivity of the playing.    It's a great performance but I still long for that recording that is as exciting as Handley and as sensitive as Elder but presents the work in better sound – such as what the Hallé recording provides here for Elder.  If only his interpretation had that extra ounce of, well…fire. Despite the slightly disappointing Bax, this disk is still a must-buy for the brilliance of the other performances.   I'm not aware of any other Frank Bridge recordings by Elder but I sure hope he does more because based on this account of
Enter Spring
he is fully attuned to that composer's special magic.  I never thought I'd hear a recording of
Enter Spring
that would challenge my affection for Sir Charles Groves's account on EMI but Elder does just that and in some ways, his performance is superior.  Certainly today's Hallé Orchestra is a more virtuosic band than Groves' wonderful Royal Liverpool Philharmonic from the 1970s and that pays dividends in the music's many fleet sections which here are played without any hint of caution at all.   This performance was rehearsed and recorded in the studio and produced by the great Andrew Keener so that may help explain why this account is so polished and brilliant.    If only
Spring Fire
could have been given the same amount of rehearsal time and preparation, it might have sounded more like this.    The Groves EMI disc is an essential purchase for anyone interested in 20
th
Century British music but this Elder disc supplements it very nicely. In addition to
Enter Spring
, the other highlight of this disc is the 'March of Spring' from Delius's
North Country Sketches
and it's no surprise that it was also recorded in the studio with Keener again producing.   There's a suppleness to the phrasing and some extraordinary solo work (as in the Bridge and Bax) that is ideal for this music and Elder's way with Delius is reminiscent of his great predecessor, Sir John Barbirolli,  in that he isn't afraid to emphasize the music's  romantic warmth.  We're rather short for great Delians at the moment so it's very encouraging to learn that Elder is a dedicated Delian and I hope now that he has recorded almost all the major works of Elgar, that he turns his attention to this most underrated of British composers.   I can only imagine the
Song of the High Hills
, 
Sea Drift
  and
Mass of Life
he could give us.   In the meantime, this sample from
North Country Sketches
and the early
Idylle of Printemp
serve as wonderful teasers. And I desperately hope Sir Mark Elder continues his advocacy for Bax.  His performances of
Spring Fire
and
Tintagel
over the years have proven his dedication and even this restrained performance of
Spring Fire
is evidence of a natural Baxian whose affection for the music is evident.   I'd love for Elder to branch out and conduct some of the symphonies (I think he'd give us an amazing Third, Sixth or  Seventh) or the very greatest of  Bax's tone poems:
November Woods
and
Garden of Fand
.   I also hope that at some time he revisits
Spring Fire
and records it again -- perhaps with the Hallé after they've played it a few more times.    In the meantime, we have a disc of glorious music played by a superb ensemble and conducted by a  real master .  Thank goodness they are committed to recording music by these great but under-performed composers.