Last Modified January 12, 2001
---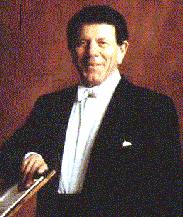 Conductor Raymond Leppard Raymond Leppard is best known to Baxians for his classic recordings of Bax's Fifth and Seventh Symphonies made for Lyrita in the 1970s.   He is a renowned scholar and performer of Baroque music but his musical interests are extraordinarily wide-ranging.  He has written extensively on music and is well known for several of his film scores. He is currently music director of the Indianapolis Symphony Orchestra and was music director of the BBC Northern (now the BBC Philharmonic) in the 1970s.   In addition to his many accomplishments, he has been honored with the title of Commander of the British Empire.
Richard Adams:
 At the time you made your classic recordings of Bax's Fifth and Seventh symphonies for Lyrita, your reputation as a Baroque music specialist was internationally known.  As a result, you must have seemed an unlikely choice to record Bax.  How did you become involved with those recordings?
Raymond Leppard: 
I don't remember the particular circumstances, it's so long ago, but I have always – often unsuccessfully – tried to resist being type-cast and the offer from Lyrita was an opportunity along those lines and one not to be missed.
RA: 
Had you been familiar with Bax's music before those recordings were made?
RL:
 When I was a school boy I used to play several of the Bax piano sonatas and   the shorter genre pieces like 
In a Vodka Shop
.   I also played the  Viola Sonata.  Then at Cambridge I played viola in the Oboe Quintet – the   two-piano piece 
Moy Mell
,  sang quite a few of the songs (I was  choral  scholar at Trinity.)  In those days too, one could buy quite reasonably  the miniature scores published by Murdoch and I had them all. Of course   I was aware that he was gradually becoming unfashionable but Patrick Hadley,   Professor of Music at Cambridge and a much-loved character about the University,  spoke so warmly of his friend Bax's talent that I never abandoned him.   Then in my early days in London I knew Harriet Cohen (was even a recipient   of the Harriet Cohen medal!) and that strengthened the link.
RA: 
Do you have any specific recollections about recording those symphonies for Lyrita?
RL: 
I only remember the skills and spirit of the London Philharmonic during those    recordings.  Indeed, unfamiliar as they were with the works, we finished    well before the allotted time and got well into the Dvorak 
Legends  
before the end and finished even these with a little extra time – another recording    I remember with affection.
RA:
 What was your initial impression of Bax's Fifth Symphony?
RL: 
I thought it so rich in sounds and so completely in control of the right structure  for its content – not always the case with him – and a very high level of  invention and harmonic control.  I still think it the best of the set and  most consistent in that particular 'Irishness' of Bax most obviously seen  in 
Tintagel.
  (I've no idea what I mean by Irishness but I can recognize  it and find it irresistible.)
RA:
 I think the Seventh Symphony is the most underrated of the cycle.  Would you agree?
RL:
 I don't know, and am leery of too categorical a judgement.  It is the  most slender in texture and spirit but much superior to the rather poor  Violin Concerto (which I did with the BBC Philharmonic) written at the same  time.
RA:
 Some commentators have criticized the slow movement of the Seventh.  Anthony Payne even went so far as to call it a "dud."  Lewis Foreman has said your performance of that movement is the most successful he has heard.   Did you find it especially challenging to 'pull off'?
RL:
 No, I didn't notice that it was 'difficult.'
RA:
 If you were re-recording those symphonies now would make any changes in your approach to them?
RL:
 I haven't heard the recordings for years but suppose, being older, there would be different emphases.
RA: 
Are you familiar with the other Bax symphonies?  What are your impressions of them?
RL:
 I like them all, least perhaps the Fourth.
RA:
 Have you been able to perform any of the Bax symphonies in concert?
RL:
 I've done the Fifth and Third in America and both with the BBC Philharmonic when it was the BBC Northern.
RA:
 Would you like to perform any of them again?
RL:
 Of course, given the opportunity.
RA:
 You have conducted 
Tintagel  
on several occasions including an unforgettable performance with the Chicago Symphony.   Is it your favorite of the tone  poems?
RL:
 In December I conducted 
Tintagel  
with the Munich Deutsche Rundfunk.   They played it very well and the packed house loved it.  It isn't that it's  my favorite but, being the most approachable, it's a great means of introducing  his music  to audiences that don't know it.  We played it here in Indianapolis  as well as the 
Picaresque Comedy
  and the Fifth Symphony.
RA:
 Are there other Bax works you have conducted or would like to conduct?
RL:
 Scores of lesser-known works are hard now to come by, especially in America, but I'm open to suggestions.
RA:
 John McCabe has very fond memories of playing the 
Winter Legends
  under  your direction.
RL:
 I remember that 
Winter Legends  
with John McCabe and would like to repeat the  experience.
RA:
 How do orchestras react to playing Bax's music?
RL:
 If an orchestra come with at least a good finger-acquaintance with their parts (and most American orchestras can do this) than you can soon get them on the side of the music.  Sight-reading strange Bax is hazardous and usually an unproductive experience on little rehearsal.  The complex textures have to be balanced or they sound turgid and players tire of them.
RA:
 Bax's structures are often criticized for being rhapsodic. Do you agree?
RL:
 Sometimes yes, but none of us is perfect.
RA: 
What challenges does Bax pose to the conductor?
RL:
 To distill the textures, ensure the harmonic pace is correct and persuade the ornamental, filigree lines that what they are doing, though highly important, is not the heart of the matter.
RA:
 Do you consider Bax a major or more peripheral figure in British music?
RL:
 Any composer whose music is still played and is effective after nearly 100 years must rank highly – think of those that aren't.  We play the best of him – people in their enthusiasm mustn't push the lesser work – and audiences and performers alike enter his world with it unique qualities and leave it enriched.  You can't ask for more. Copyright © Sir Arnold Bax Web Site