New Naxos recording of Bax Symphony No. 4 – Reviews
Sir Arnold Bax - Symphony No. 4, Overture to a Picaresque Comedy and Nympholept. Royal Scottish National Orchestra conducted by David Lloyd-Jones
THE SIR ARNOLD BAX WEB SITE
Last Modified April 24, 2002 
---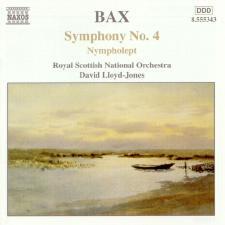 NAXOS 8.555343
---
Review by Graham Parlett
The first four releases in the Naxos cycle of Bax's symphonies have been received with acclaim and have introduced many people to the composer's work who might not have taken the plunge had the CDs been at full price. Issuing the first three symphonies in chronological order and then following them up with No.5 was a shrewd move: all four symphonies show Bax at his best, and it was a good idea to couple them with a selection of tone-poems rather than to pair symphonies on a single disc.
David Lloyd-Jones has now turned his attention to what many of Bax's admirers regard as his least successful symphony. It was written in 1930-1 and marked a watershed in his development, in which he began consciously to write in a more extrovert idiom, 'an adjective detested by him but one whose descriptive power he admits', as Robert Hull elegantly put it at the time. Bax had certainly revealed his ability to write extrovert music in earlier orchestral works such as Rosc-catha (1910), the Festival Overture (1911), and the Scherzo (1917), but these scores would have been quite unknown in the 1930s and the Fourth Symphony must have seemed at the time to have had a feeling of new horizons opening, and it can now be seen as an essential stepping stone towards the last three symphonies.
Vernon Handley's pioneering recording, with the Guildford Philharmonic, was only the second Bax symphony to be recorded: it came out in 1964 on the Concert Artist label and has never been reissued on CD though it was once available on a Revolution cassette. It still sounds reasonably good, despite the limitations of the semi-professional orchestra and the electronic organ, and it was to be nearly another twenty years before Bryden Thomson recorded it with the Ulster Orchestra - the first in Chandos's Bax series. The sound quality is excellent and I think that it is one of Thomson's best performances. Another nineteen years on and we now have David Lloyd-Jones's superb new interpretation.
The bracing opening of the symphony (which Bax told Robert Hull represented 'a rough sea at flood-tide on a sunny day') is certainly redolent of salt tang and glistening foam. (Bax did once refer to the work as his 'Sea Symphony' but, when asked to elucidate, backtracked and suggested that descriptive titles were for his tone-poems not his symphonies.) Lloyd-Jones takes a brisker view of this opening than Thomson and I think it pays off. There is a much greater sense of forward momentum, and the amount of sheer energy produced by the orchestra during the opening pages is quite intoxicating: it sounds as if the players were thoroughly enjoying themselves. The blare of the brass and the clatter of xylophone come over very well in the recording, and the quieter sections are played with sensitivity and finesse. The movement is a long one, with many colourful digressions and picturesque asides, and compared with the taut first movement of the Sixth Symphony it can sound very unfocussed; but Lloyd-Jones succeeds in shaping it into a convincing symphonic whole.
I have often felt that, beautiful though it is, the second movement of No.4 is less successful than those of its six companions, though I find it difficult to say why. Is it that there are too many self-contained episodes following on from one another for no apparent reason? Those ground swells on pages 82 to 83: what purpose do they serve? Aren't those strivings towards a climax that never really materialises rather perfunctory? And aren't the final pages just a little too protracted? These heretical thoughts crossed my mind even in this new performance, which is as well played as any I have heard. Nevertheless, it does contain some splendid moments: that strange trumpet melody near the beginning with its wide intervals (beautifully played here), which could have been written by no other composer; the magical solo violin after fig.10 accompanied by woodwind, celesta and harp harmonics; and those melting Baxian harmonies for the strings near the end. Once again Lloyd-Jones succeeds better than most other conductors in making the movement's succession of episodes seem coherent.
I have never enjoyed the finale so much as in this new recording. The opening packs a powerful punch, and for once it is possible to hear the first theme in the bass; it is usually drowned by the accompaniment. Once again Lloyd-Jones conveys a good sense of forward momentum, and I especially like the faster-than-usual statement of the stepwise-rising horn melody just after fig.8. The dance-like episode for flute and harp shortly before the 'Marcia trionfale' is delightful, and the very slight pause before the final chord crashes in is most effective. Once again the tempo relationships have been expertly judged, and the movement comes across as being more than just a succession of extrovert episodes, as it can seem in lesser hands.
Bax's virtuosic writing for a large orchestra (including six horns, two tubas, and an organ) comes across well in this new recording - the horn- and trumpet-players play magnificently throughout - though the sound is not as rich as in the Chandos version, which remains one of that company's very finest despite the supposed improvements in recording techniques over the intervening two decades. I hope that this new recording will encourage Warner Chappell to reissue a study score of the work, which is currently out of print. I am not sure that I would subscribe to the opinion expressed recently in a review that 'the Fourth can lay serious claim to being Bax's orchestral masterpiece', but this new performance has certainly made the work shoot up in my estimation, and there is no doubt that the first movement is among Bax's most colourful and exuberant examples of tone-painting.
The two couplings are very welcome. The Chandos recordings of Nympholept and the Overture to a Picaresque Comedy are disappointing, the tone-poem lacking in delicacy and mystery, while Bryden Thomson really makes very heavy weather of what should be a sparkling overture.
Nympholept (one who experiences rapture inspired by nymphs) was written as a piano piece in 1912 and then orchestrated in 1915, but it was never performed during Bax's lifetime. In 1935 he began revising it and added a dedication to Constant Lambert, but again no performance was forthcoming, and it had to wait until 1961 for its first (semi-amateur) performance. In some ways it can be regarded as a woodland equivalent to its close contemporary, The Garden of Fand, and there are also connections with The Happy Forest and The Tale the Pine-Trees Knew, not to mention the near contemporary Spring Fire. (According to his friend Mary Gleaves, Bax had 'an almost erotic empathy with trees' and when walking in the woods his creativity would be aroused - plenty of material there for a psychoanalyst.) A glance at the unpublished manuscript shows Nympholept to be second only to Spring Fire in the complexity of its texture: it teems with intricate filigree detail, and the conductor's main problem is, I imagine, one of balance: distinguishing the individual trees (i.e. melodic lines) in the composer's luxuriant sonic wood. I sometimes feel that the two faster sections sound a little perfunctory, sitting awkwardly among the surrounding 'forest murmurs', but in this performance I was less troubled than usual, so well has David Lloyd-Jones judged the tempo relationships and integrated them into the overall scheme. It really is a marvellously evocative piece containing some glorious sounds. The central section, with the melody quietly announced by a solo piccolo (uniquely marked 'elfin and soul-less') begins more simply but soon becomes more passionate. (In his famous book on orchestration, Forsyth admits that he is unable to think of any instances of a solo piccolo playing in its lower register, suggesting that Bax's example is very rare indeed.) As I have mentioned, Bryden Thomson's Chandos recording was not a success. Vernon Handley's 1983 broadcast was much better, as was Rumon Gamba's 'Composer of the Week' performance on Radio 3 in February 2001. David Lloyd-Jones is also excellent and I look forward to further wallowing in this magic sound-world.
I never expected that anyone would ever equal Hamilton Harty's lithe and zestful recording of the Overture to a Picaresque Comedy, let alone surpass it, but I think David Lloyd-Jones has done just that. 'Brilliant!' is the word that I involuntarily muttered to myself after hearing it for the first time. Thomson's reading, as I have mentioned, is far too earthbound and bloated, more like an 'Overture to a Suet Pudding', though I think Bax was partly at fault in qualifying the opening Allegro tempo marking with the word 'comodo' ('easy flowing', 'leisurely') when the music seems to cry out for 'vivace'. An old RCA recording conducted by Igor Bucketoff was better, but this has never been reissued, and I have never had the luck to hear an early American LP performance conducted by Mitropoulos. Lloyd-Jones sets off at a cracking pace, and his orchestra plays with tremendous panache and obvious enjoyment throughout; they sound as if they had been playing it all their lives. It is quite simply the best performance of the work that I have ever heard.
My only trifling gripe with this series so far is the pallid watercolours that adorn the booklets, suggesting that an art editor looked the composer up in a dictionary of music, saw the phrase 'Celtic Twilight', and drew the usual wrong conclusions. 'Primitive Celtic colours are bright and jewelled', wrote Bax, certainly apt adjectives for the overture and symphony on this disc (though of course neither has any Celtic connotations), and something bolder would have been far more appropriate. But how ungrateful of me to criticize Naxos when I have derived such pleasure from so many of their releases. I eagerly look forward to the next in this excellent series.
Copyright ©  Graham Parlett
---
Review by Christopher Webber
This recording of Bax's 4th Symphony is the aural equivalent of a rail ride through well-loved scenery. Nothing's missing. All the familiar landmarks are there, seen perhaps more clearly than ever before, but flattened by distance, whisked in and out of view with frustrating rapidity. The eye has no time to linger, journeying is all. Praise is due to producer/engineer Tim Handley for providing the clearest, fullest recording of what has, curiously, become the Cinderella amongst Bax's symphonies; but Lloyd-Jones' meticulously-planned account provides no special illumination of the work's particular virtue. I doubt whether anyone coming to this symphony for the first time, as so many will through Naxos' vision in sponsoring this cycle, will really get the chance to feel the 4th as anything other than a pleasant ebb between two mighty flows.
Whether or not its one-time popularity has weighed against it, the 4th often seems to evoke indulgent affection rather than unqualified admiration, even amongst Baxians. Well, I for one have always loved the unique poetry of its Celtic seascapes, and have never found the ebullient, open-air exhilaration of the first movement a bar too long. The shoreline magic of the slow movement is unquestionably amongst Bax's finest inspirations, and the quirky March-finale enjoys a triumphant homecoming unique in the composer's output.
Rather than return to Bryden Thomson's atmospheric Gramophone Award winning account with the Ulster Orchestra on Chandos - almost the best of his cycle - I excavated Vernon Handley's pioneering LP account with the Guildford Philharmonic (Concert Hall LP 1964) for some instructive comparisons. Timings over the three movements are virtually identical, but despite playing which swings between the inspired and the barely adequate, Handley's version quarries much more than the newcomer at virtually every point.
Take the start. This movement is, unusually for Bax, more about rhythmic than melodic contrasts. Where Lloyd-Jones sails into the powerful pedal point of the opening with purring Rolls-Royce smoothness, Handley finds in Bax's brusque theme a dogged, humorous insistence which is much more characterful, much more potent. The massive hammer-blows with which he prepares both the variant brass restatement a few seconds later and quicksilver rocking theme from the strings are precisely tapped in by Lloyd-Jones, but Handley's subtle rubato is missing - with the result that the Scottish brass and string players snatch at the countering phrases. Symphonic rough-and-tumble is smoothed to polite exchange of views, rhythmic contrasts hardly register, tension is dissipated.
The 'pendulum' motif which follows at 3'13" provides another crucial marker. Where Handley prepares it dramatically with a tiny ritardando before launching in with the swing and spring of a natural contrasted element, Lloyd-Jones merely pauses for breath before shoehorning the motif into his basic pulse at the expense of surprise and contrast. So with the rest of the movement, and indeed the whole work: where Handley is insistent, varied and full of life, the newcomer is scrupulously balanced, balletic - and dynamically flat. None of this is a question of basic tempi, which are identical. All of it is a question of rhythmic vitality, augmented by interpretative relish of Bax's orchestral virtuosity. His 4th Symphony proves after all to be an elusive work.
The tone poems, tactfully placed first on the CD, fare much better. Overture to a Picaresque Comedy gets its wittiest outing on disc since Sir Hamilton Harty's famous premiere reading, and though for brash high spirits Igor Buketoff's long-deleted version on RCA LP still holds the palm, the extra clarity of the newcomer makes this the outright modern choice. Nympholept is finer still, its narcissistic passion superbly brought to life by conductor and orchestra alike. Lloyd Jones brings an epicurean, Delian discrimination to the later stages of the piece which sustains its sensual raptus much longer than Thomson's penny plain Chandos version. Gorgeous stuff! I'll return many times to this good value CD for the tone poems, less often alas for the symphony.
Copyright ©  Christopher Webber
---
Review by Rob Barnett
The Naxos cycle continues and this installment is to be warmly greeted.
Overture to a Picaresque Comedy: a Straussian panache swoops, strides, struts and serenades its way through this euphorically pell-mell interpretation of Bax's whooping slalom run. This is not top-drawer Bax but it shows his craftsmanship in colours that are wild, garish, non-Russian, non-Nordic and voluptuous. Bax is out to emulate Richard Strauss's Till Eulenspiegel and Aus Italien with a dash of Cockaigne's bustle and a wink and nod in the direction of Dukas and Holst's Perfect Fool. The same vein can be discerned in the first and last movements of the Violin Concerto and in Work-in-Progress; the latter recorded years ago by Lyrita Recorded Edition and never issued.
Nympholept is dedicated to Constant Lambert whose Pomona woodland ballet takes a cooler and more classical perspective. Bax's rarely performed work is a woodland idyll - a sylvan analogue to Balakirev's Tamar. The woodland scene is fleshed out with nymphs and satyrs of beguiling ways. This is a Swinburnian fantasy with links to the George Meredith and the Pre-Raphaelite painters. Bax continued the vein with works such as Spring Fire and The Happy Forest. Nothing is quite that simple but this work might well be grouped by reference to Edward Burlinghame Hill's Prelude, d'Indy's Jour d'Eté dans la Montagne, Roussel's Symphony No. 1, Ravel's Daphnis and Debussy's Prélude à l'après-midi d'un faune. The music rustles and writhes with the seething forest shadows and the dappled dazzle of summer.
Neither the overture nor Nympholept are first recordings. Bryden' Thomson's Nympholept is with the Second Symphony (and no other coupling) on a Chandos CD in which the textures were rendered far too densely and are over-warm and clouded. The Overture was recorded by RCA many years ago when the conductor was Igor Buketoff.
The Symphony No. 4 is a discursive fantasy work that stands midway in Bax's symphonic journey from terse tragic epic to elysian lyrical Armageddon to Celtic wonderland and thence into the gloriously Sibelian fastnesses of the Fifth and Sixth symphonies. It has the marine rapture of the Seventh Symphony without its valedictory placidity - some might say complacency. If he had dubbed it Sea-Phantasy we would not have blinked. Its tendency to bask is heard at zenith in the lento moderato and is prevalent in the allegro moderato which for music of its time is more moderato than allegro. The finale is the shortest of the three movements. Lloyd-Jones takes things expansively with the long fade at the end of the middle movement seeming to evoke a sun-drenched rock reef at the end of an uttermost skerry. In the finale, which also goes pretty steadily, I have never heard the little harp and flute dance at 7.34 done with such rare poignancy. There are many passages here which seem to be a gift to the brass section and especially the eight horns prescribed. The RSNO's men of brass rise fulsomely to the challenge and the great peroration to the finale goes with a confident blare and a crest-rolling roar. Comparing this with Bryden Thomson's version on Chandos with the Ulster Orchestra, I have to lean marginally in favour of the Thomson with its fleet eagerness and its tendency to move forward even through the dreamy episodes. The more I listen to and write about this work the more similarities I perceive with another 'sea symphony,' Hugo Alfvén's Symphony No. 4.
The Fourth was dedicated to Paul Corder. It was premiered by the conductor Basil Cameron with the San Francisco SO in 1932. Cameron also conducted a sturdy and savage performance of Bax's Northern Ballad No. 1 for the BBC in the 1950s. Sibelius was close to Cameron's heart and there are several Tapiola-like moments in this work.
Only numbers Six and Seven to go now and I do hope that the Sixth is next in line. After that can I implore that Naxos look at Winter Legends if they have a young unknown and brilliant pianist who is superior to the challenge and is prepared to tackle something that is not called a concerto.
Copyright ©  Rob Barnett