New biography on Harriet Cohen by Helen Fry – Review by Richard R. Adams
THE SIR ARNOLD BAX WEB SITE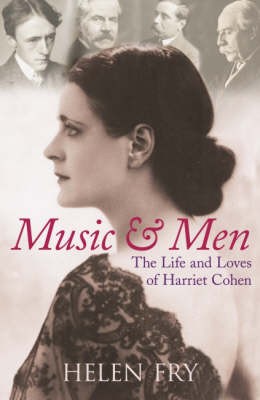 Music and Men: The Life and Loves of Harriet Cohen
By Helen Fry
The History Press LTD - 2008
Review by Richard R. Adams (with additional notes by Graham Parlett)
If Harriet Cohen is remembered at all today it is for her relationship with Sir Arnold Bax and unfortunately time has not been kind to her reputation either as an interpreter of his music or for the influence she had on his personal life. Helen Fry's new biography of Harriet Cohen is therefore a must-read for all Baxians as it provides a much fuller picture of this astoundingly resilient and complicated woman who managed to endear herself to many of the greatest musicians and politicians of her age as well as advocate for multiple humanitarian causes; most notably Jewish refugees trying to escape the horrors of Nazi Germany.  This new book also sheds light on her relationship with Bax and makes it easier to understand why both were so enamored of the other despite their many conflicts.  Regrettably, a fair amount of patience will be required when reading this book as Ms. Fry was none-too-careful to check her musical facts but hopefully future editions will correct these errors.  (See Graham Parlett's note at end of the review). I can only imagine the number of hours Ms. Fry must have spent pouring over the thousands of letters Harriet Cohen bequeathed to the British Library that only became available for review in 1999.  The letters to and from Harriet are quoted extensively and Ms. Fry provides commentary and biographical information to place the letters in context and explain various gaps in the correspondence. Sadly, there are few musical revelations as Bax seemed reticent to discuss his music in his letters to Harriet but we are provided with a very detailed history of their personal relationship by means of some very intimate letters that frequently make for uncomfortable reading. I'm certain Ms. Fry's interest in Harriet didn't come by way of her involvement in Bax's music as her knowledge of it seems limited.  For example, on page 120 she refers to Harriet giving the first London performance of "Tintagel" at the Queen's Hall under Albert Coates.  Her role in the performance is not explained but I can't imagine she played in the orchestra!  Even more intriguing is a reference to a performance of Bax's Piano Quintet involving E.J. Moeran! There are multiple errors of this sort and after a while they do begin to irritate as they could have been corrected if Ms. Fry or her publisher had ran the text by someone more familiar with Bax and I hope these errors are corrected in future editions.  I would have also welcomed more background information on Harriet's youth although I'm sure that information is hard to come by.  Still, a scant five pages devoted to her "early years" is really not adequate for a biography of this type.  The book really begins once Bax enters her life as at this point the letters start flowing and we are provided with a most thorough account of the early years of their relationship. We should be grateful that Harriet was so careful to keep her letters and make copies.  She obviously had an eye on posterity as she pleads with Bax in one letter to keep her letters as she believed they would be of interest to future readers "in about 60 years time", she estimated. So she wasn't very modest but she did have foresight.  What is ironic is that the least interesting letters detailed in this book, at least for me, are the early writings between Bax and Harriet. Both come off as annoyingly self-absorbed and the poetic prose gets pretty thick at times. Bax comes off the worst as his letters seem so focused on the physical aspects of their relationship – albeit in very romantic and colorful terms.  Harriet seems more realistic as she frequently complains to Bax about his initial refusal to leave his wife and then once he does, she keeps pushing him to get a divorce.  Bax gently avoids these issues, always bringing the discussion back to how much he longs for her breasts. Harriet responds to his flattery but she also displays a keen understanding of Bax's personality and moods and it becomes evident how she could support him through periods of low esteem or creativity but also badger him when she wasn't getting what she wanted.  I was struck by how Bax never reacts in anger to her overtly manipulative attempts to make him feel guilty or to her frequent allegations of his being unfaithful.  Perhaps he knew she was right!  Still, the tone of his letters is always warm and loving and he makes every effort to reassure her of his love even when we know his feelings for her were cooling. By the early 1930s, Harriet and Bax had pretty much moved on to other lovers although neither was discussing this with the other although you get the sense they knew it anyway.  It's these later letters that are so endearing to read. By this point they had come to accept each other's less attractive traits while at the same time remaining very affectionate and concerned for each other's well being and their sexual chemistry appears to have remained strong as Bax never fails to comment on her physical charms even well into the third decade of their relationship.  She in turn does all she can to reassure him of the value of his music and how her audiences responded to it. Bax becomes a much less prominent figure as the book progresses and it's her life away from Bax that for me was the most interesting to read because so little of her other life has been documented until now.  For instance, I knew she struggled with poor health but I didn't understand the extent of it.  It seems that her bouts with tuberculosis and pleurisy were constant and many of her letters describe her physical agonies and worries about death.  George Bernard Shaw, one of Harriet's frequent correspondents, offers her various remedies and frequently reminds her to take better care of herself. Even when she was ill, she would practice long hours.  She knew that in order to play up to the level that was expected of her, she had to work harder than many of her colleagues as she didn't possess their technical gifts and she also had to compensate for  her very small hands. What impressed me most in reading this biography was discovering the extent of her repertoire.  She was a Bach specialist and one of the first pianists to champion early English keyboard music including the works of Gibbons, Purcell and William Byrd.  She was an accomplished player of Mozart, Haydn and Beethoven but it was the music of her time that she championed most passionately and the list of composers who wrote for her indicates just what a fine interpreter she must have been in her prime.  For instance, she worked closely with Busoni and Manuel de Falla dedicated
Nights in the Garden of Spain
to her.  She championed Turina, Shostakovich, Kabalevsky, Stravinsky, Bartok, Kodaly, Honegger, and just about all the major British composers of the first half of the 20
th
Century wrote their piano pieces for her.  It's said that her abilities as a pianist began to taper off after the late 1930s and this may have been due to the cumulative effects of her poor health and erratic relationships but she continued to give concerts well into the 1950s – even after the accident during which she supposedly fell and severed the tendon in her right hand. The fact this happened so soon after learning of Bax's 20-year relationship with Mary Gleaves is discussed but no new revelations are made. I regret that so few recordings of Harriet exist. Wouldn't it be wonderful to hear what she made of Bax's piano sonatas when she was capable of playing them well?  I've heard her Bach recordings and they're remarkable for being totally unmannered while at the same time wonderfully expressive.  What little Bax she did give us is beautifully done although the live recording of "Winter Legends" from the 1950s does indicate that by that time, her best playing days were behind her. The other aspect of her life that I suspect is little known today was her commitment to humanitarian causes. A letter from the American journalist Dorothy Thompson alerted her to the dire threats facing the Jewish population in Nazi Germany and Eastern Europe in the early 1930s. She used her connections with British Prime Minister Ramsay MacDonald and later Winston Churchill and Franklin Roosevelt to encourage the United Kingdom and the United States to allow more Jews and other refugees from Nazi Germany to emigrate.  She was of Jewish heritage herself although she wasn't devout but she understood anti-Semitism first hand and encountered a lot of it in her efforts to advocate for the refugees including, most unexpectedly, from William Walton in a letter he sent her on which he drew a swastika as a "joke. "  This incited a very angry return from her that he later apologized for although even in his response, he expressed little sympathy for the refugees, citing they all seemed to be staying in the "best hotels" in England. Helen Fry's biography is a major but flawed accomplishment and is in need of another edit for musical errors but Baxians should still seek it out.  Having read so much negative press about Harriet Cohen over the years, I've often wondered why Bax remained so attached to her and this book gives some indications why.  In so many ways she was his equal – both were passionate and committed to their causes whether it be the plight of Jewish refugees or the need for Irish independence.  Both were hugely sensitive, creative and self-absorbed artists but Bax was more the introvert and Harriet the extrovert and this difference in their personalities created tensions and ultimately made it impossible for them to live together but somehow they remained devoted friends and it's time we understood and appreciated just how remarkable a person Bax's beloved Tania actually was.   I'm very grateful to Helen Fry for giving us this opportunity.
Graham Parlett writes
:
Helen Fry is a historian, not a musician, and the book inevitably contains many errors that would not have been perpetrated by someone more familiar with music and, in particular, that of Bax. In reading through the book, I made a list of errors that ought to be corrected for any future edition. I append them for the benefit of readers but would emphasize that they should not detract from Dr Fry's achievement in helping us to understand and appreciate a quite remarkable woman.
page number
14        'Tintagel Castle' is a poem by Bax not a tone-poem (also pp.50, 61). 27        The date of birth given for Maeve Bax is incorrect; it should be 11             January 1913, exactly one year after her brother. 36       
In the Vodka Shop
should be
In a Vodka Shop.
46        Bax was
not
a millionaire, as stated here and elsewhere in the book; he was comfortably well off, and when he died in 1953 the gross value of his estate was £11,935.19.11d but the net value only £1,627.11.10d, which would be about £240,000 and £33,000 respectively in today's money. 46        Bax's poem 'Amersham' is incorrectly referred to as a tone-poem. 50        Balfour Gardiner was not Bax's cousin (also on pp.122, 155). 53-4    'Spleen' should be 'Speen' (in Buckinghamshire). 79        I thought that it was Bax who led people to think that his wife was a Roman Catholic and so would not divorce him. Surely he himself would have known whether she was or not. 120     Cohen did not give the first London performance of
Tintagel
, which of course is for orchestra alone. 123     'I argue [agree?] with everything you say about Æ [George Russell]. His coarseness, etc is revolting to me here'. I suspect that what Cohen wrote in her letter was 'AB' (written as a ligature), i.e. Arnold Bennett, from whose yacht she was writing. The context makes it plain that Æ is not the person being alluded to. Similarly on p.172, I imagine that it should be 'G.B.S. [Shaw] and AB [Bennett]' (not 'Æ'). 128     'de Falla' should be 'Falla': in Spanish usage, the 'de' is dropped when      the surname is used alone. 130     Is 'Nefastein', as the name of an Egyptian queen, a misreading of Cohen's handwriting (for 'Nefertiti'), or is Cohen making a joke? 135     Moeran did not direct the concert; he promoted it. 154     Glencolumcille is in Ireland, not Scotland (also p.221). 179     The 'Lambert' mentioned in the letter quoted is surely the photographer Herbert Lambert of Bath, not Constant Lambert. 198     'I have first returned from the V.W....concert': 'first' probably a misreading of 'just'. 217     'Graz' should be 'Grez', Delius's home (Grez-sur-Loing). 221     The reference should be to Elgar's Piano Quintet not 'Piano Concerto'. 231 'It [a Kabalevsky concerto] is a lonely work rather like Moeran's music': 'lonely' probably a misreading of 'lovely'. 239    
Time & Side
should be
Time & Tide
.
242     Léon Goossens was indeed the son of Eugene Goossens (II), but the person referred to here was his elder brother, the conductor Eugene Goossens (III). 243     'BBC Broadcasting Corporation' should be 'British Broadcasting Corporation' (or just 'BBC'). 258     The George Cross island of Malta has become a Queen's Counsel:
Malta   QC.
'Gardens in the Nights of Spain' should be 'Nights in the Gardens of Spain'. 271    
Morning Time
should be
Morning Song
.
273     I suspect that 'Ken Knight' of the BBC should be 'Kenneth Wright'. 289     'Montaux' should be 'Monteux'. Notes 290-9 are missing at the back (p.305), and apart from some obvious misprints (e.g. 'Eygpt' three times) there are several misspellings that should have been spotted by a copy-editor: 'plain' for 'plane' (p.185), 'muted' for 'mooted' (p.203),  'dignatories' for 'dignitaries' (p.291), 'Cincinatti' for 'Cincinnati' (p.291). 'Æ' [George Russell] has become strangely accented in several places: 'Ǽ'. I am also puzzled by some of the uses of '[sic]' in transcriptions from letters; and surely it should not be used after American spellings in quotations from American newspapers (e.g. 'program [sic]'). One familiar photo shows Cohen and Bax holding the manuscript of the Left Hand Concertante after its Prom performance at the Royal Albert Hall on 25 July 1950, but unfortunately the caption for this picture is wrong: 'Harriet with Bax just days before the accident with the tray of glasses, May 1948'. The author has incorrectly assumed that the photo (which also appears on the back cover of the book) was taken at the recording sessions for Oliver Twist ― the time when Cohen discovered the existence of Mary Gleaves.