New ASV recording of Bax Violin Sonatas Vol. 2 – Review by Chris Webber
Arnold Bax: Violin Sonata No. 1 (1921); Violin Sonata in G Minor (1901); Ballad for violin and piano (1916); Legend for violin and piano (1915). Robert Gibbs (violin), Mary Mei-Loc Wu (piano). ASV CD DCA 1127 (60'38")
THE SIR ARNOLD BAX WEB SITE
Last Modified April 24, 2002 
---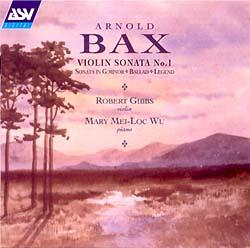 ASV CD DCA 1127
---
Review by Christopher Webber
ASV's second and concluding Volume of Bax's complete music for Violin and Piano shares many of the virtues of the first. Robert Gibbs' distinctive, dark-grained tone remains appealing, and the characterful sensitivity of Mary Mei-Loc Wu's pianism is at least as compelling. The repertoire is absorbing, too, centring on the first and most musically substantial of the three published Violin Sonatas. The work has a complex history. Its first movement was inspired by his wild passion for a young Ukrainian, Natalia Skarginski, and was completed early in 1910 just before he followed her to Russia where the affair soon foundered. Bax's attempts to complete the sonata did not satisfy him, and in 1914 the single movement was performed by violinist Winifred Smith and Bax's Academy friend Myra Hess, already well on her way to pianistic fame and fortune. In March 1915 Bax revised his score, writing brand new second and third movements, and this version was performed and published in 1920. Some minor cuts and alterations followed as late as 1945, revisions adopted by Gibbs and Wu here.
Thanks to its generous, passionate lyricism the 1st Sonata is amongst the most attractive and easily grasped of Bax's major chamber works. Bax's imaginative use and development of a motto theme provides a useful point of reference, and unlike the 2nd Sonata the 1st's musical content comes over strong and clear without any need for autobiographical footnotes - although the appearance of the 'Strife' variation from his Symphonic Variations in the last movement hints at deep personal connotations. The stormy scherzando of the central section provides a satisfying contrast to the lush but tightly structured romanticism of the outer ones, and the ending is as memorably serene as the not dissimilar conclusion of the later Viola Sonata, another of his finest chamber works.
As with the later sonatas on ASV's Volume 1, Gibbs' brings an attractive, sensitive sympathy to the work, but this time round occasional fragility of intonation is enough to diminish the pleasure to be had from his lyrical, sweet if not overly dramatic reading. Michael Ponder's recording once again favours him at the expense of Wu's piano, capturing his playing warts and all; so altogether this version cannot be recommended in preference to Erich Gruenberg and John McCabe's more robust reading on Chandos, which yields nothing to the newcomer in terms of sensitivity.
The same criticisms can be levelled in the shorter pieces which make up this well-planned CD. The intense, compact Ballad of 1916 may have been inspired by the Easter Rising in Ireland; whilst the darker, even more substantial Legend from the previous year may encapsulate Bax's reaction to trench warfare in France. Again Gibbs is drawn to delicacy of utterance rather than dramatic thrust, and both these fine pieces ideally need more emotional heft (and, in the Ballad, security of intonation) than he provides here. The real rarity is the early, one movement Sonata in G minor of 1901, a student work dedicated to Bax's violinist-girlfriend of the time, Gladys Lees, but later suppressed. It was finally revived by Bernard Partridge for the Bax Centenary of 1983, and although its romantic salon style offers precious few clues to the emergence of an echt-Baxian personality, it is a cogent and technically demanding little piece which Gibbs and Wu bring attractively to life.
In sum this CD proves something of a disappointment, given the positive impression made by the first Volume in the series. The rare shorter pieces make the disc a must-buy for Baxians, and the 1st Sonata itself is far too strong a work not to make its impact felt, even where - as here - executive problems contribute to a soft-focus performance which is less than ideal.
© Christopher Webber 2002