Naxos resurrects Marco Polo Recording of Sinfonietta, etc.
BAX: Overture Elegy and Rondo; Sinfonietta (Symphonic Phantasy).  Slovak Philharmonic Orchestra, Barry Wordsworth (conductor).  Naxos 8.555109 [ rec. 1987, also available on Marco Polo 8.223102. TT=45:44]
THE SIR ARNOLD BAX WEB SITE
Last Modified September 8, 2003 
---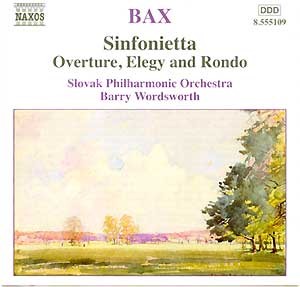 Naxos CD: 8.555109
---
Review by Graham Parlett
Neither of these two works had been recorded before Marco Polo took them up in 1987, and neither has been played, much less recorded, since. This Naxos reissue is therefore an essential purchase for anyone who missed it first time round, and it supplements the ongoing series of symphonies and tone-poems under David Lloyd-Jones. However, it has to be said that the performances do not entirely do the scores justice. No doubt Bax's idiom was unfamiliar to the Slovak Philharmonic, and they do their very best under the circumstances; but the playing sometimes seems tentative, more like a rehearsal than the final performance.
The Overture, Elegy and Rondo (1927) and the Sinfonietta (1932) make apt bedfellows. They are both in three movements, they are both similar in duration, and they are both abstract works having no programme whatsoever. Bax likened the Overture stylistically to a concerto grosso, and the music is perhaps the nearest that he came to neo-classicism. The playing here has plenty of vigour at the opening, and the quieter moments are sensitively managed, but there is a staccato quality to the playing in the louder passages on this disc that often makes the music seem more lightweight than it is. This is caused, I think, by the practice of treating Bax's innumerable accent marks (>) as if they were staccato dots, so that crotchets often sound like quavers or semiquavers. I also felt that the final pages of this movement needed to move on faster than they do here and for the ending to be more decisive.
The central Elegy was described by Bax as 'spectral' (i.e. having a ghostly atmosphere) and it is unusual among his slow movements in having no great climax. Unfortunately the Slovak brass sound very ill at ease and out of tune in their quiet unaccompanied passage near the beginning, and the following pages have some poor phrasing (not to mention a wrong trumpet note); and once again I felt that the tempo was a little on the lethargic side. The Rondo finale presents a jolly little tune and puts it through its paces. (The melodic shape actually occurs remarkably often throughout Bax's music and bears a definite resemblance to the North Country carol 'O dame get up and bake your pies', on which he wrote his piano variations of 1945.) It's all good clean fun, with a grandiose peroration and a riotous coda, but again the performance leaves something to be desired. The Presto on p.86 of the score seems more like an Allegretto, and the pacing of the contrasted tempos towards the end sounds awkward. I have a dim tape of Leslie Head conducting this work with the Kensington Symphony Orchestra, and his performance was more successful in conveying the humorous contrast between the main tune as it returns Maestoso in all its splendour and the irreverent, scampering woodwind and string figures that mock its pomposity.    
The Sinfonietta is entitled 'Symphonic Phantasy' on the unpublished manuscript (echoes of the original title of Sibelius's Seventh Symphony) and it remained unperformed during the composer's lifetime. He was unsure of it and told the conductor Christopher Whelen, to whom he gave the manuscript in 1950, that he didn't want it played. Whelen faithfully obeyed this injunction until 1983, when he was very reluctantly persuaded to let it be performed during Bax's centenary year. (He had previously refused a request from Robert Ponsonby to allow it to be premièred at a Prom in 1980, where it would have shared the programme with the first performance of Rubbra's Eleventh Symphony under Nicholas Cleobury.) Vernon Handley and the BBC Welsh Orchestra eventually gave the first performance at a recording session in Llandaff on 25 June 1983 for broadcasting later that year. (Odd to think that it has only ever been played in Wales and Czechoslovakia.)
The three movements are linked by a kind of liturgical motto theme, which is heard at the outset after an unaccompanied timpani roll and returns in triumph at the end. I suspect that Bax's reservations about the Sinfonietta were largely founded on the first movement. It certainly gets off to an impressive start but it does seem to lose its way later on. Unlike most of Bax's first movements it is not in sonata form, and it sounds as if the composer was having difficulty with it (it brings to mind Tovey's amusing phrase 'a prelude to a prelude to a prelude'). It may well have been that Bax's dissatisfaction with the work lay in his unsuccessful attempt to create a movement outside of his familiar methods, resulting in an episodic structure and a certain rhythmic stiffness.
The slow movement, on the other hand, I find very beautiful, more akin stylistically to the near contemporary Fifth Symphony than to the richer textures of his earlier works, and the Slovak Philharmonic is at its best here. The highly rhythmic finale is unique in Bax's output for being entirely fast, without any slowing down (at least no slower tempo is marked in the score), while the march-like peroration is again similar to the ending of the Fifth Symphony, even down to those difficult downward arpeggios on the strings, which Bax probably cribbed from the finale of Elgar's First Symphony. The final cadence, however, sounds too abrupt, and I wish that Bax had thought of a better ending. The tempo set by the conductor on this recording at the start of the third movement is too slow, in my view; it sounded more exciting under Handley. The Sinfonietta contains so much splendid music that it would be a pity if its occasional shortcomings were to prevent it from becoming better known.
The sound quality on this CD is very bright but with a tendency to spotlight certain instruments, and somehow the different departments of the orchestra do not blend together very well. It would be difficult to conceive of a less appropriate cover illustration for the CD booklet than the one used here (except possibly the one on an LP sleeve for a Brahms symphony, once reproduced in Gramophone, which showed a photograph of a frying-pan with a couple of fried eggs in it). I do hope that Chandos can be persuaded to let Vernon Handley record these two scores with the BBC Philharmonic. Until then, by all means enjoy this CD; but remember that there is more to the works than is revealed in these performances.
Copyright © Graham Parlett
---
Review by Christopher Webber
The original, full-price Marco Polo issue of this CD was always a bit of a Baxian Cinderella. It's been around since 1987 without attracting undue notice or enthusiasm, but its unique contents should get more of an airing now the Naxos Coach has arrived to take Cinders to the ball.
Both pieces are substantial scores of three movements, lasting well over twenty minutes, sub-symphonic in argument and musical density. Both might qualify as sinfoniettas. Now sinfonietta is a word that alarms the experienced. It alerts us to a piece which the composer doesn't think (a) good enough, (b) serious enough, or (c) long enough to risk calling a symphony. Modesty in music often has depressant side-effects, and most sinfoniettas are indeed best used as mogadon substitutes - though Zemlinsky's and Moeran's come to mind as honourable exceptions, with Williamson's an outrageous, spicy third.  Janacek's, of course, is above the battle.
Bax's, alas, does not cut the mustard. Written in 1932, the Sinfonietta was never played in his lifetime, and he himself felt it wasn't "quite up to the mark". His lack of faith in this backward child was spelt out when he gave the manuscript to Christopher Whelen in 1950: "I don't want this done, mind." The first movement starts promisingly, an elegiac introduction swiftly giving way to the Bartókian string slashes (shades of Miraculous Mandarin) which make up the main theme of the allegro. But the movement runs out of steam swiftly; the development is turgid, gloomy and predictable. There's no break between movements, and not much in the monotony, either - though at least this sinfonietta avoids that desperate joviality which marks many of its kind.
I've tried to warm to it several times down the years, but in this performance at least it remains obstinately earthbound and unmemorable. Not so the work which precedes it: Overture, Elegy and Rondo (1927) is paradoxically much more within the sinfonietta tradition, with lively, brilliant, outer movements framing a central Elegy, where touches of tambourine and harp suggest Bax's classical rather than Celtic roots. Bax's tunes are memorable, their working out witty, and the whole seems greater than the sum of the parts. It may be something of an inter-war period piece, but at this remove that's part of its charm.
The playing of the Slovak orchestra is (like the recording quality) warm and characterful throughout - I specially loved the distinctive vibrato of the Slav horns and woodwind, which even evoked (during the Overture) Martinu in Fantasy mode. After that splendid first track Barry Wordsworth is not able to disguise his or the orchestra's lack of familiarity with Bax's idiom. Textures sometimes need unravelling (or Ravel-ing), phrasing is often weak, Bax's tight structures seem to meander.
The disc hasn't been remastered for this relaunch. You get Lewis Foreman's good notes, in three languages now, but not the conductor's biography. At under 46 minutes running time the Naxos represents an improvement in cost-effectiveness over the Marco Polo incarnation, and it can be recommended for the Overture, Elegy and Rondo. I can only endorse Bax's Sinfonietta to BBC R4 listeners, as an effective alternative soporific to Alistair Cooke's Letter from America.
Copyright © Christopher Webber