IDEALA: Poems and Some early love letters by Arnold Bax – Reviewed
Colin Scott-Sutherland (ed.), Ideala: Poems and some early love letters by Arnold Bax including the Collected Poems of Dermot O'Byrne.
Fand Music Press, 2001. 320 pp. £50. http://www.fandmusic.com/
THE SIR ARNOLD BAX WEB SITE
Last Modified November 4, 2001
---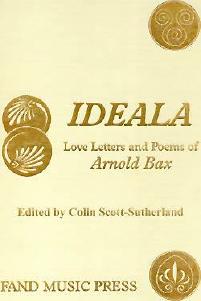 Review by Graham Parlett
It is common knowledge that as well as being a composer Arnold Bax  was a prolific man of letters, with four plays, at least thirty short stories, and over 300 poems to his name - or rather to that of his alter ego, Dermot   O'Byrne. Much of his poetry and most of his fiction was published between 1908 and 1923, but none of it had a wide circulation, and many of his acquaintances and admirers during his lifetime would have been only hazily aware of this side to his creative activities. In 1979 Lewis Foreman edited a selection of the  poetry (Thames Publishing), but until now the bulk of it has remained unknown.  The contents of this new volume include not only every scrap of the composer's   verse that Colin Scott-Sutherland has been able to lay his hands on but also a selection of youthful letters to girlfriends and the first publication of  substantial extracts from the memoirs of Francis Colmer, who was private tutor   to Arnold and his siblings, Clifford and Evelyn, when they were in their teens. In the introduction, the editor draws interesting parallels between the personalities of the two Bax brothers, demonstrating, for instance, that a strong feminine streak enabled their work to embrace an unusually wide range of moods, as we can hear in much of Arnold's music or in Clifford's narrative poem The Traveller' Tale. But he also draws attention to the differences between them, in their attitudes to women, for example, and they certainly had quite different domestic arrangements, one residing for decades in the Albany, the other being a denizen of hotels and pubs. The book contains separate sections on the various collections of Arnold's poems, published and unpublished, beginning with verses written in a notebook given to him at Christmas 1904 and ending with the published volumes Love Poems of a Musician and A Dublin Ballad. These are interspersed with sections on two of Bax's principal girlfriends, Isobel Hodgson and Mary Field, with transcriptions of his letters to them, and there are also pages on his wife, Elsita, and on Harriet Cohen, the woman for whom he left her. Next we have Colmer's memoir of "The Two Brothers", written at the end of his long life, and eight appendices, including Tilly Fleischmann's memoir of Arnold and a further selection of poems from the Harriet Cohen material in the British Library and from the Boole Library, Cork. There are also reproductions of early recital programmes and pages from musical manuscripts and printed scores, including a complete reprint of the piano piece The Princess's Rose-Garden in the Augener edition. Bax was an inveterate reader of verse, and the main influences on his own early poetry include such figures as Yeats, AE, Macleod, and Swinburne. The poems vary enormously in quality, as do his musical works, but at their best they exhibit great depth of feeling and sureness of touch. Space precludes extensive quotations but a single verse taken more or less at random will convey the character of his early poetry better than attempts to describe it in prose: I have pierced the wide blue waters of Romance With carven prows of quaint and lovely forms. Through summered ages I have watched the dance Of starry sprays blown up by night to glance Among my silken sails in shining storms. I sailed toward the sun in that slow swell, Like him of whom the sad-eyed harpers tell. This is the opening of "The Ships", published in 1909, and, with its allusion to Cuchullain, has obvious connections with the Celtic themes of his early music. There are many poems that have an obviously autobiographical basis, such as "In a Bohemian Forest", which is about the episode described in the "Böhmischer Schweiz" chapter of Farewell, my Youth, and the charming "Tryst", which opens in a tea-shop in Oxford Street (presumably one near the Royal Academy of Music, then situated in Tenterden Street); and of course there are numerous poems about Ireland, nature, women, love, and death. Many of the poems are quite straightforward and make an immediate impression, though doubtless repeated readings will uncover hidden subtleties; but some are quite elusive — "Maya", for example, which is slow to reveal its secrets, and whose very title is obscure: is it, as the editor suggests,  something to do with the Mayan culture of Central America or is it the Hindu goddess of illusion? I have read "Maya" several times but am none the wiser. With the exception of the nine poems published as A Dublin Ballad and Other Poems, of which the principal one was highly praised by Yeats and is a hard-hitting attack on the British government (it was banned by the censor in Ireland), there is little in the way of reactions to contemporary events. But even in "The Battle of the Somme", a rare excursion into the wider world, the main theme of the poem is the pain of a soldier's separation from his loved one rather than the horrors of the battlefield: God, after this unholy push He might get Leave — aye, leave to crush Her white warm body up to him, Strained close till this bad world went dim, To slake his dusty lips for hours Upon her crimson bosom flowers. Nevertheless, the references in the poem to life in the trenches are certainly vividly expressed: His world of blood and lice and stink Gave him little time to think, And time to cleanse him of the stains Of other people's guts and brains.... But, as the editor points out, Bax himself had no first-hand experience whatsoever of such a world, having been turned down for military service on health grounds, and his Great War poetry has none of the stark immediacy of soldier-poets such as Rupert Brooke or Wilfred Owen; this quality can be found instead in the many poems connected with the Easter Rising of 1916. Much of the poetry will give pleasure to people who would rather read about natural phenomena and the "eternal verities" than about day-to-day affairs. Clifford Bax disapproved of writing about current events on the ground that such writings soon become out of date, and observed that the dead wood in Shakespeare's plays occurs at such topical moments. This view is in sharp contrast of course to the alternative belief that poets should have strong social consciences and reflect their own time. Most of the love letters in this volume were written to Isobel Hodgson and Mary Field during the early 1900s, when Bax was a student at the Royal Academy of Music. Nobody, I fancy, would seriously suggest that even in his maturity Bax was a great letter-writer, though he was certainly a prolific one, as the 1,500 or more letters he wrote to Harriet Cohen indicate. (These are currently being catalogued at the British Library, to which she bequeathed them.) Occasionally his terms of endearment and light-hearted banter made me cringe, but we should remember that these letters were intended only for the eyes of their young, infatuated recipients, not for nosy people like us a century on, and since their contents are really none of our business it would be impertinent to criticise them. Much as I found the letters of great interest, I also felt slightly uncomfortable about reading such private documents. But at least Bax never went in for the ribaldries of the Eynsford set or the clinical intimacies of Grainger's letters to Karen Holten; in fact there is nothing remotely indecorous about them. (I am reminded that Bax's friend Mary Gleaves remarked that she had never once heard him use a swear word, and in all the hundreds of letters from him that I have read over the years I can recall only a single instance of "bloody", and even then he was quoting what somebody else had said.) But what do the letters tell us about him? There are disappointingly few references to his own works, though musical quotations from Wagner and Strauss are to be found, and much of the material reflects his state of mind at the time — what he called in his music the "expression of emotional states" — with references to friends and current goings on within his own circle. There are the whimsical flights of verbal fancy and pretentious phrases that you would expect in a young man trying to impress his girlfriend. One letter, addressed to "Eilidh elskov", begins: "I am simply miserable, because — Ach, so gnädig!— I shall not be able to be chez vous after all to-morrow", a polyglot extravaganza that must have had the young lady reeling at the sophistication of her admirer even as she groped for the dictionary. But there are also some charming revelations:
Yes, I too felt that little intermezzo on the Academy stairs was a wonderful moment. I think you and I  ascended higher in that instant than we have ever gone before together — we seemed to touch the fiery mist didn't we — I have thought of it ever since.
An unsympathetic reader of these letters, as well as of the more flowery poems, might be tempted to condemn Bax as a rather selfish person from a privileged and cosseted background, surrounded by domestic servants, who could afford to indulge himself in passionate affairs, pursuing girls to Russia at the drop of a hat — or even at the drop of his own sister: in his hot pursuit of "Loubya" he left Evelyn stranded in the middle of Kerry without a penny to her name and with no thought of the consequences. What the letters do convey in abundance is the ardent, impulsive character of the composer, something already familiar to us from the wide-ranging moods of his music. As with his poetry, Colin Scott-Sutherland has provided illuminating footnotes, with translations, for example, of the Norwegian and Gaelic endearments in which Bax delights. Francis Colmer's memoir of the two brothers is a real find. Colmer was only ten years older than Arnold and retained a lifelong friendship with the Bax family. He died in January 1967 at the age of ninety-three, having outlived both brothers, and touching letters to him from Clifford Bax dating from 1961 and 1962 (the year of Clifford's death) are reproduced in this volume. The recollections are a fascinating and hitherto unknown source of information about the brothers' parents and grandparents, their Uncle Ernest (Belfort Bax), and their childhood, early activities, and characters written by someone who knew them intimately from their teens until their deaths. They certainly contain obscure facts that we should never otherwise have known, such as the name of the Bax children's nursemaid (Thyrza) and details of the Ivy Bank Choral Society, founded by their father. Intriguing also to learn that Arnold once appeared in an amateur theatrical production of Sheridan's The Rivals, and even odder to find Alfred Bax, who had been brought up to regard theatres as "antechambers of hell", being induced to tread the boards as Henry VIII in Shakespeare's play. These memoirs are interesting in their own right and will certainly be of great use to future biographers. Colin Scott-Sutherland is to be well and truly congratulated on his achievement in so expertly marshalling and editing all the material. Grateful thanks also to the composer Peter Thompson, who deserves much credit for financing this lavish publication and issuing it through his Fand Music Press — a genuine labour of love without hope of financial profit. The paper used in this hardback volume is of high quality, with many photographs, drawings, and other reproductions. There is also a striking front cover design (after Rossetti) in gold embossed on a cream ground, which was inspired by the 1911 de luxe edition of Clifford Bax's Poems Dramatic & Lyrical. This is a fascinating book, and nobody with a real interest in British music or in the byways of English poetry should be without it. Copyright ©  Graham Parlett 2001
---
Review by Christopher Webber
Few composers have enjoyed comparable fame for their literary output, but the time and effort which Arnold Bax put into his writings before 1920 has made his admirers curious to sample at least some of his poetry and prose. The short stories remain out of reach, but in Ideala Colin Scott-Sutherland has brought together all of Bax's 280-odd poems, published and unpublished, between two very handsomely produced covers. The majority, alas, are perfervid, Celtic-Swinburnian juvenilia, misted mirrors of a emotional adolescence that seems to have been prolonged even beyond marriage and the start of the Harriet Affair. Sadly lacking in individuality or substance, they offer prettily turned images of ghostly faces, pallid stars, flaming hair and the whole job lot of Celtic paraphernalia. Few even amongst those he eventually published in the collections Seafoam and Firelight and Love Poems of a Musician command the emotional intelligence that is required to shape romantic rhetoric (the vignette The Aran Islands  is a rare exception), and their chief interest is autobiographical. Whether penned by the young "Dermid McDermott" or Bax's more settled literary alter-ego "Dermot O'Byrne", the concentration on Irish legend is fierce. A handful of later, Yeatsian self-exposures from the early Harriet period strike a much cleaner note, an intense mixing of desire and grief at the inevitable loss of the moment: And gods have burst their heavens for the sake Of the half-rumour of a dream like this. Why should I care if, driven from your kiss, My heart has nothing left to do but break This is from Cornish Night (Sept 4 1917) (p.181) and the temporal precision is significant. Better poems are triggered by such factual pinpoints, for example his wife's response to the situation ( Crisis , p.195); and perhaps most revealing of all his own response to public opprobrium (Darkness , p.194) in which the self-righteous anger of the egotist is more to the fore than conventional guilt: Can there be evil worse than this That shame should lurk in every kiss A man gives in that union Complacent custom fawns upon ...? Bax's personal Splendours and Miseries were to be transmuted into musical, not verbal gold. It took the horrors of the 1916 Dublin Easter Rising to shake "Dermot O'Byrne" into one paroxysm of genuine poetic communicability. His impassioned, broadsheet response in  A Dublin Ballad and Other Poems   makes a direct appeal to common experience lacking in the earlier verse. The Dublin Ballad 1916  itself may owe more to Oscar Wilde than Yeats, but its raw, bitter invective - turned as much inward towards Bax's failure to have died for the cause, as outward towards the British Military - still packs a considerable punch: O write it up above your hearth And troll it out to sun and moon, To all true Irishmen on earth Arrest and death come late or soon. Given this sort of thing, not to mention "Tommies up before the lark   / At rifle practise in the yard", the censor inevitably demanded deletions,   which Bax refused to accept. The collection was never published officially, but it did circulate widely in private:
Willy Yeats told me in a Dublin drawing room that 'A Dublin Ballad 1916' was a masterpiece, and this has pleased me more than any praise my music has received.
Understandably so, but at this distance even the cold fury of  A Dublin Ballad  rings faintly hollow. Maybe there's a faint whiff of the self-pitying outsider or poseur in this poetry which we don't get in Bax's music - although it is well to remind ourselves that some folk scent it even there. Ideala - the title is from one of the Swinburnian effusions - is more than just the collected poetry. Scott Sutherland seems to have started by preparing one book but ended up creating quite another, a multimedia chapbook of Bax's love life. Witness this curious statement:
There is no doubt that the greatest love affair of Bax's life was his love   for Ireland ... It seems therefore appropriate to include the verses of 'A Dublin Ballad' here.
I should have thought it was entirely appropriate to include Dermot O'Byrne's best-known verse in his Collected Poems, but there we are! The interleaved scattering of love letters (such as the one addressed "O Naughtiest and most charming of Tortoises") are surely too private - and biographically insignificant - to justify our intrusion. On the credit side the extensive memoir by Francis Colmer, tutor and close friend both of Arnold and his brother Clifford, gives a vivid picture of enlightened, late Victorian middle-class family life. The generous admixture of photographic portraits, documents and landscapes - including some autograph and printed musical facsimiles - speaks to us more directly than the poetry. Many of these photos are previously unpublished, and though the reproductions are only passable, they add greatly to the pleasure of dipping in and out of the book. Colin Scott Sutherland deserves great credit for bringing all this fascinating material together, though his editorial method is frustrating. He presents the poems in order of their appearance in various typed or handwritten manuscript collections, irrespective of chronology or quality, jumbling published with unpublished. For the former, final versions are given, and earlier variants footnoted. With the isolated exception of the short Dublin Ballad collection, this makes it impossible to read the cream of these poems in the integrated order Bax finally decided upon, without constantly thumbing backwards and forwards through the book. Surely it would have been better to present the published collections complete, supplemented by a large "uncollected" section in rough chronological order? As it is, the appendices catch some flotsam and jetsam anyhow which didn't make it into Bax's personal collections. They also harbour a random chunk of Tilly Fleischmann's engaging Irish memoir, and a selection of texts from Bax's draft libretto for an opera, Dierdre . Worthwhile archive material, but randomly thrown together, and not all obviously relevant to Bax the poet (or lover). Most of the footnotes are helpful. Others suffer from repetition, deviation and even a degree of hesitation - I for one would like to have known a little more about the East Clare Election of 1916 which inspired two of the best poems in the Dublin Ballad booklet. Proof-reading is a worry if footnote dates are anything to go by (Byron influenced Pushkin in the 1820's not the 1870's, the Crystal Palace was built for the Great Exhibition of 1851, not 1815). Editorial conjecture is sometimes plain wacky - why for example does Scott Sutherland try to invest the poem "Maya" with images of the Mayan civilisation, with which Bax was probably not familiar, when its overt theme is the common Hindu concept with which he most certainly was? Despite these idiosyncrasies, Scott Sutherland has performed a useful task in drawing this large body of work together. Ideala is a handsome volume, well worthy to grace the shelves of any serious Bax enthusiast, even if its wider literary interest is disappointingly limited. Copyright ©  Christopher Webber 2001