Historic Bax from Boyd Neel on Lyrita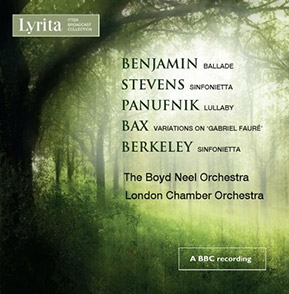 Lyrita issue the 1961 premiere of Bax's Fauré Variations
Benjamin: Ballade for String Orchestra Stevens: Sinfonietta for Strings Panufnik: Lullaby 'Kolysanka' for 29 strings and 2 harps Bax: Variations on the name Gabriel Fauré for harp and string orchestra The Boyd Neel Orchestra, c. Boyd Neel
Berkeley: Sinfonietta for chamber orchestra London Chamber Orchestra, c. Anthony Bernard*
BBC Radio Broadcasts, 31 January and 20 March* 1961 Lyrita Itter Broadcast Collection REAM.1117 (Mono ADD)
Review by Christopher Webber
It is puzzling and somewhat frustrating to think that the
Fauré Variations
is Bax's only full-length essay in the great, English tradition of works for string orchestra. Puzzling, because he wrote so much in so many other forms and genres. Frustrating, because the work came along late in his life, when his fast-flowing, creative stream had died to a trickle. Paul Conway says in his programme note that this slightly altered 1949 orchestration of a 1945 piano solo original was Bax's "last completed work of any substance"; and although the
Coronation March
(1952) shouldn't be quite so readily overlooked, this eighteen-minute work is certainly the last he wrote for the concert hall.
Perhaps recognising that its genteel charms were far removed from the robustly serious, socialist post-war spirit, Bax seemingly didn't have the energy to offer either this or the piano original around, although – as Graham Parlett has discovered – he did hope that Boyd Neel might take up the
Variations
with his iconic Orchestra. Yet when they finally did correspond in the early 1950's, the composer showed little apparent interest ("… I doubt whether they are any good, but it is long since I thought about them … Anyway I will hunt them out".) The quarry can't have been too arduously pursued, because it is believed that Neel only received the score after Bax's death, adorned by then with a ballpoint pen dedication to the conductor, in Harriet Cohen's hand! By 1961 Boyd Neel was resident in Canada, but during one of his visits to England he and the Orchestra were finally able to present the
Fauré Variations
as the climax of an hour-long BBC broadcast, following seriously socialist works by Arthur Benjamin and Bernard Stevens, plus a more equivocal – and fascinating – one by the émigré Andrzej Panufnik. In context, if Benjamin's powerful
Ballade
registers as a major work by a minor composer, there's no denying that the Bax comes across as a minor work by a major one. It is pleasantly pastel and artfully tailored, despite the baffling near-invisibility of the harp in its central
Barcarolle
,
Polka
and
Storm
sections. Both the opening
Idyll
and closing
Quodlibet
allow us to bask in the sunset glow of romantic emotion recollected in tranquillity, the same feeling Bax explored in two earlier miniatures for strings and harp,
Evening Piece
and
Irish Landscape
. As with so many others in Lyrita's Broadcast Collection, the late Richard Itter's off-air recording sounds amazingly clear, allowing us to enjoy the performance without any sonic murk. The dynamic range of the playing comes over beautifully, and it's precisely in this respect that Boyd Neel's performance scores over Martin Yates's bigger and bolder premiere recording with the Royal Liverpool Philharmonic Orchestra (Dutton Epoch, 2009). If that was a welcome labour of love, in the light of Boyd Neel's broadcast the RLPO's string section seem now to show too much labour, and too little love. In the opening statement of the 'signature' theme and
Idyll
the BNO present a more personal, sensitive response than the generic dynamic squeezes of the larger orchestra. The BNO's playing is occasionally fallible, yet there's more lilt to their
Barcarolle
, more teasing humour to their
Polka
, and more vigour to their
Storm
. There, Boyd Neel points up the repeated, enigmatic quotation from the National Anthem ("Send Him Victorious"), making me wonder if Bax – who originally penned this movement around the time of VE Day – had a more poignant Anglo-French
entente cordiale
in mind. Honours are evenly divided in the final
Quodlibet
, as the BNO players tire a little at the end of their live concert. The RLPO are at their powerful best here, though the 'sunset glow' is more diaphanously spaced in BNO's final bars. Although the LCO's encore under Anthony Bernard gives us Lennox Berkeley in footlingly urbane form, the surpassing excellence of the rest of the BNO concert – Benjamin's stern, concentrated and beautiful
Ballade
, Stevens's Waltonesque
Sinfonietta
(boasting a wonderfully sensual slow movement) and Panufnik's compulsively weird
Lullaby
(a simple folk tune tendrilled with whacky, bleeding string aureoles) – ensures that this CD is a keeper.
© Christopher Webber, 2015