Early Chamber Works'. Quintet in G for two violins, viola and two cellos (1908); String Quartet in A (1902). Dutton. CDLX 7131. Reviewed by G. Partlett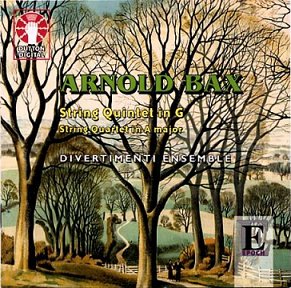 ARNOLD BAX: '
Early Chamber Works'.
Quintet in G for two violins, viola and two cellos (1908); 
String Quartet in A (1902). 
Divertimenti Ensemble: Paul Barritt, Rachel Isserlis (vlns.), 
Jonathan Barritt (vla.), Josephine Horder, Sebastian Comberti (vlcs.). 
Dutton. CDLX 7131.  
---
It was in the summer of 1902, while he was a student at the Royal Academy of Music, that Bax read Yeats's The Wanderings of Oisin and instantly became (in his own words) 'a kind of honorary Irishman'. A few months after this revelation, he completed his earliest known string quartet, which predates his first published one by sixteen years. This Quartet in A was given a single performance exactly a century ago, in November 1903, two weeks after the composer's twentieth birthday, but then lay unplayed (except for the slow movement) until it was recorded for this new Dutton CD. It proves to be a well-wrought student composition, full of high spirits, with some attractive tunes, effective counterpoint, and skilfully written for the string quartet medium.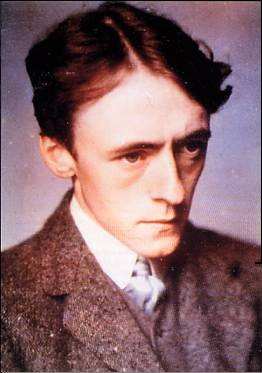 The musical material itself seldom sounds like the mature Bax and, had I come upon it without knowing the composer, I am not sure whether I should have guessed his identity. But while it may lack the individuality of the Quartet in G of 1918, the youthful Bax certainly had something to say and knew how to say it, though he often makes strenuous demands on his players' technique. He originally wrote a lively ending to the first movement, but the page is crossed through in the manuscript and replaced by a slow, poetic coda, which proves to contain some of the most individual music in the entire score, especially the final fourteen or so bars, which really do sound Baxian.
I first heard the slow movement of this quartet at a Wigmore Hall concert in 1989, and it made little impression on me. Hearing it in context and so well played, I find it a much more attractive piece, with melodies that are gradually finding their way towards his later style. As with the Sonata in G minor of 1901 (recorded on ASV) there are a few salon-like passages, a style that Bax would soon outgrow, but the movement is well constructed and creates a favourable impression. The third movement is a boisterous romp, full of deft touches, and somehow the tunes never quite seem to go in the direction you expect them to. It is also the earliest example of the composer's predilection for combining the functions of scherzo and finale into a single movement, as in the symphonies and in many of his other multi-movement works. The melodic material is very engaging (the first theme briefly brought the scherzo from Martinů's Fourth Symphony to mind), and Bax's treatment of his material is arresting and often unexpected (those high squeaks on the second violin about 30 seconds into the movement, for example). There are one or two moments when Bax's true voice shines through (around 3'50 and again at 7'35), and the final bars come as a complete, not to say abrupt, surprise. In his programme note, Lewis Foreman wonders whether Ireland or Bohemia predominates in this dance-like movement; I should say the score is Bohemia 9, Ireland 1: the influence of Dvořák is much more apparent to my ears than that of Irish folk music, but I thought I also detected nods in the direction of Edward German, whom Bax liked (he once sent him a letter expressing admiration for his 'very English music').
The other piece on this disc is the unpublished four-movement String Quintet in G of 1908, which also remained unplayed for over ninety years until Divertimenti gave a performance in Lichfield Cathedral in 2001. It was first played in July 1908, but what we have on this CD is not exactly what that audience of long ago would have heard. The first movement is given complete, but the editor, Paul Barritt, in consultation with his fellow performers, has made some judicious cuts in the third and fourth movements in order to tighten their structures; and in the second movement he has made a transcription of a revised version with two violas instead of two cellos that Bax published in 1923 under the title Lyrical Interlude (recorded by the Maggini Quartet on Naxos 8.555953). This skilfully constructed performing edition thus enables us at last to hear a score full of youthful exuberance and teeming with fresh and attractive ideas. The sound-world is much closer to Bax's later style than with the Quartet in A. The opening theme in the first movement makes much use of the Scotch snap, and then, after a characteristically Baxian transition, the first part of the second subject group has a ravishing melody with an Irish flavour (beautifully played here) that many listeners will recognize from its use in the later piano miniature A Hill Tune, though in this version its continuation sounds more Straussian than Irish. The melody that follows put me in mind of Moeran, though of course the work predates any of that composer's music. Bax welds all this material into an attractive, well constructed whole.
The slow movement—one of the most beautiful in any of his chamber works—will be familiar to many listeners from the Naxos recording of its revision as the Lyrical Interlude. Next comes an amiable scherzo, much of it in 6/8, and here again I was occasionally put in mind of the early Moeran. The notes liken it to a sequence of dances at an Irish ceilidh, and Paul Barritt has pointed out a resemblance to Brahms's G major Sextet near the start. The finale is another sunny, dance-like movement full of Irish allusions and infectious rhythms and with a delightful second-subject melody. 
The playing of the Divertimenti Ensemble on this Dutton CD is superlative throughout, as is the warm and clear recording. The booklet, with its attractive cover design, has detailed notes by the indefatigable Lewis Foreman, reproductions of pages from the two holograph manuscripts, and a splendid colour photograph of the composer taken by his friend Paul Corder in 1907, the first time it has ever been published other than in monochrome. Highly recommended, not only to Bax enthusiasts but to anyone who feels like exploring some attractive, out-of-the-way English music from the early years of the twentieth century.
Reviewed By: Graham Parlett