David Owen Norris's City Music Society performance of Bax 2nd Piano Sonata reviewed by Christopher Webber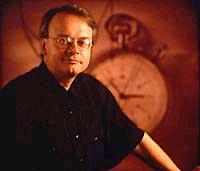 City Music Society-Bishopsgate Hall, London EC2
David Owen Norris (piano) Bax: Sonata No.2 Elgar: Five Improvisations
January 14th 2003
THE SIR ARNOLD BAX WEB SITE
Last Modified January 19, 2003 
---
Review by Christopher Webber
The City Music Society, founded by Ivan Sutton to present lunchtime and early evening concerts late in the 2nd World War, will celebrate its 60th anniversary in November. Fitting, then, that this opening concert in their Spring Season should feature the first major Bax performance of the composer's own commemorative year. Pianist David Owen Norris has been a Bax champion throughout his career. Aside from having made distinguished recordings of the Piano Quintet (with the Mistry Quartet) and several of the songs, he has consistently included Bax in his wide-ranging concert repertoire. Fitting, again, that he should choose the 2nd Sonata - for many the summit of the composer's instrumental achievement - to begin his recital.
This was a theatrical reading of Bax's grim, powerful masterpiece. Norris's playing was consistently bloody, bold and resolute, and like the Scottish Thane himself not proof against a few little local difficulties. His keynote urgency saw him triumph over most of them, even if the Moderato Eroico second section was too recklessly attacked to convey Bax's suggestion of "brazen and glittering". Phrases were often rushed at ferociously, and even in the rapt Lento ("very still and concentrated") Norris's unwillingness to leave the music to its own devices conveyed pianistic effect in place of the baleful calm which can make this music so deeply impressive.
The supreme challenge of Bax's music is to precisely convey its romantic passion, without tumbling into the pit of textural incoherence. Norris conveyed the passion most effectively, but the helter-skelter capriciousness of his playing sometimes obscured the structural beauties of what is a magically crafted as well as imaginative vision. Nevertheless, there was not a dull moment in his performance, and I for one am grateful to him for giving us the rare chance to hear a great and demanding work in the flesh.
Norris's living for the moment proved less of a double-edged sword in the Elgar Improvisations which followed. He has learned these five substantial pieces by ear, listening to the recordings Elgar committed direct to HMV's wax masters one autumn day in 1929. Can one recreate someone else's improvisation? Affirmative! Norris gave us a fascinating glimpse into a composer's creative processes, as he felt his way from the impersonal (in one case, a tune from Rossini's William Tell ballet music) to something deeply 'Elgarian'. The fourth in particular, based on material from the draft of a slow movement for the Piano Concerto Elgar intended to write for Harriet Cohen, proves of special poignancy - especially given that she was of course the dedicatee and primal cause of the Bax 2nd Sonata itself.
Fleeting moments of improvised beauty naturally make for strings of pearls rather than finished formal jewels; but this linearity fitted Norris's impulsive style well, and the results were always intriguing, often moving. His encore - Elgar's once-ubiquitous Salut d'Amour - brought us back to what the Improvisations perforce lack: the satisfying sense of form that a master craftsman can work his material into given time, insight and sheer hard work.
Copyright ©  Christopher Webber