Chandos Premiere Recordings featuring BBC Phil/Martyn Brabbins
Arnold Bax - Premiere Recordings on Chandos London Pageant; Concertante for Three Wind Instruments; Suite from 'Tamara' (orchestrated 2000 by Graham Parlett); Cathaleen-ni-Hoolihan
BBC Philharmonic Martyn Brabbins, Conductor
THE SIR ARNOLD BAX WEB SITE
Last Modified March 5, 2001 
---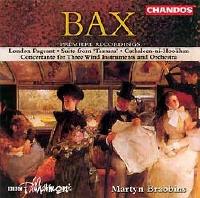 CHAN 9879
---
Review by Christopher Webber
This Chandos offering may seem something of a rag-bag to non-specialists. In truth, we ought to be grateful that the company's consistently magnificent support for Bax is now threatening to reach the barrel-scraping phase. This CD at least is made up of uncollected, unrelated odds and ends from both ends of the composer's career. The delicate pastels of the late "Wind Concertante" sit uneasily between the poster-paint bluster of "London Pageant", and the bold oils of Graham Parlett's orchestration of a Suite from the early Russian-style ballet "Tamara". The student tone poem "Cathaleen-ni-Hoolihan" is thrown in for good measure, another piece of gentle interest for the Bax completist. But does all this make a focussed programme for the general listener?
Possibly. There are still plums to be pulled out of the Bax barrel, and opening item apart the pieces here thoroughly justify themselves. "London Pageant" was an misplaced attempt to cash in on patriotic fervour at the time of the 1937 Coronation. In the event, Bax's noisy, martial note spinning was comprehensively upstaged by Walton's "Crown Imperial". The composer's heart clearly wasn't in it, and few will dissent from his own terse judgement: "Too many notes" - though we might add a whispered "and not enough tunes".
The other late work is quite another matter. Each of the first three movements of the "Wind Concertante" is beautifully crafted for its solo instrument, subtly differentiated in mood and atmosphere. The vital fires may burn dim, but the charms of emotion recollected in tranquillity inform almost every bar. Only the last movement, with the three instruments in tandem, seems perfunctory. Bax was perhaps more interested in one-to-one talk than the party spirit, and having brought his diverse soloists together he loses interest in what they might have to say to one another. But for the rest, this turns out to be a substantial work of symphonic length which amply justifies recording.
First step on the road to the great tone poems it may be, but "Cathaleen-ni-Hoolihan" (1903) turns out to possess substance in itself. It is remarkably mature in style and structure, striking in its economical use of Celtic melodic material. Other influences were to overturn Bax's musical applecart and lead to a broadening of stylistic scope, but "Cathaleen" is well worth having for its own quiet certitude.
Of those other influences, Bax's visit to the Ukraine in pursuit of a "fairy-tale princess" (1910) and the arrival of the Russian ballet in London the following year were the most potent. He lighted on the Ukrainian folktale "Tamara", and between July and November 1911 wrote the short score for a full-length ballet at white heat. This was never orchestrated, for reasons clearly explained by Lewis Foreman in his substantial note, but the important thing is that Graham Parlett has now extracted a 23 minute Suite from the manuscript, scoring Bax's material in the grand, Russian manner whilst paying due regard to manuscript hints and Bax's own two, later ballets - which themselves utilised sections of this discarded "Tamara".
The results are frequently exhilarating. The main theme of the Prelude immediately recalls Rimsky-Korsakov's "Antar", but much of the rest of the score comes across as far more personal, strongly Baxian in feeling and tone. "Naiads" is particularly lovely, a coy avatar of Fand and her Garden but with its own delicate wit and grace. In his more profound, mature works Bax rarely interested himself in sustaining the kind of muscular, long-breathed paragraphs we find in "The Enchanter's Palace" and "The Hunt"; and Parlett's attractively varied scoring is never overblown, even in the grandiloquent "Apotheosis" which concludes this most worthwhile Suite. Let's hope Chandos will commission a companion - on the strength of this, there should be plenty of impressive, passionate music in "Tamara" left for Graham Parlett to choose from.
The performers are admirable. Martyn Brabbins proves a good advocate for these virtually unknown pieces. His direction is sensitive and clear-headed throughout, particularly subtle and tactful in the orchestral accompaniments to the "Wind Concertante", which is impeccably phrased by the three soloists. Brabbins and the BBC Philharmonic do their thankless best in the bombastic "London Pageant", and their "Cathaleen" is gracefully turned. The lustrous wind and brass playing and good weight of string tone adds to the excitement in "Tamara", aided by a Chandos recording which is impressively full and clear throughout. Anyone who has warmed to Bax's music will find much to enjoy about this issue, and the Russian ballet at least adds something new and substantial to our appreciation of the range of a great composer.
Copyright ©  Christopher Webber