Chamber Music Palm Beach play music by Bax, Roussel, Martinu and others- Review by Graham Parlett
EVER CHANGING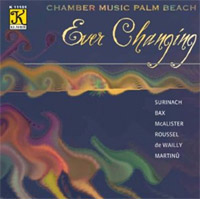 Bax: Oboe Quintet; Surinach: Ritmo Jondo; McAlister: Agreste; Roussel: Trio in F, Op.40; de Wailly: Aubade; Martinů: Trio, H.300.
Chamber Music Palm Beach.
Klavier K 11181 [71:44]
Recorded at Eissey Campus Theater, Palm Beach State College, Palm Beach Gardens, Florida, 30 July—1 August 2007. Issued 2010.
Review by Graham Parlett
This new CD from Klavier contains excellent performances of some attractive music recorded in superb sound and with informative, albeit anonymous, booklet notes. Chamber Music Palm Beach is 'an ensemble of musicians who founded the Palm Beach Chamber Music Festival in order to bring the experience of chamber music to South Florida audiences during the summer months'. We are told that the members of the ensemble are drawn from all the major South Florida orchestras, and on the evidence of this disc they include some really first-rate musicians. The CD opens with a short piece (6:08) called
Ritmo Jondo
('deep rhythm') by the Catalonian-American composer Carlos Surinach, a former recipient of an Arnold Bax medal. The work, which is scored for clarinet, trumpet, timpani, percussion and hand-clappers, consists of two highly rhythmic flamenco dance movements, Bulerías and Garrotín, framing a slower, more intense one called Saeta. Surinach later expanded the piece into a twenty-minute ballet, and there is also an arrangement for concert band, which is apparently the most frequently performed. This is lively music, played with great panache, and provides an ear-catching start to the programme. A complete contrast in style and mood is provided by the next piece on the disc, Bax's Oboe Quintet, written in 1922 for Léon Goossens. Like everything else in this recital, the work receives a well-prepared and totally committed performance, but I found that the speeds, particularly in the first movement, were rather too slow for my taste, and an editing fault (presumably) in the second movement has led to the omission of a minim (half-note) in the oboe part. The finale starts off at a reasonable pace, but again I felt that some of the later speeds (especially the
Vivace
towards the end) were too sedate for music that should dance and sparkle, as in the Nash Ensemble's performance on Hyperion (CDA66807). (It is interesting to compare the timings on the two discs: Hyperion―16:37; Klavier―19:41.) Nevertheless, much of the slower music is played most affectingly by the Palm Beach musicians, particularly the final pages of the first movement and the opening of the second. The quintet is followed by a delightful scherzo by the American composer Clark McAlister (b.1946), which is scored for flute, oboe, clarinet, horn, bassoon, string quartet and double bass. This exuberant piece, playing for about five and a half minutes, is entitled
Agreste
, a French word meaning 'rustic', 'ill-bred', etc. I enjoyed it very much. Next we have Roussel's attractive Trio in F, Op.40, for flute, viola and cello, which receives an excellent performance from the Palm Beach players. Roussel's music is always highly inventive, and in this piece, which shows him at the top of his form, he has the ability to make the three instruments sound as if a larger ensemble were playing. The trio is followed by another, this time for flute, oboe and clarinet, by the French composer Paul de Wailly (1854-1933), of whom I had never heard. He was a disciple of Franck and continued to write in a style that by the 1920s and '30s was considered old-fashioned. His short
Aubade
(2:57), which dates from the beginning of the last century, is another charming scherzo movement with a slower middle section, and I enjoyed making its acquaintance. Finally comes Martinů's Trio, H.300, for flute, cello and piano, which was completed in five days in July 1944 after he had had an enforced three-week rest suffering from exhaustion. Scored for flute, cello and piano and in three movements, the work is typical of its composer, though, as the notes point out, it is among the 'least complex of all Martinů's chamber music, easy in its design and easy to listen to'. None of the works on this CD is without interest: they all make an immediate appeal to the listener and are expertly written for their chosen media. The performance of Bax's Oboe Quintet may not be a top choice from among the half-dozen versions currently available, but this does not prevent a recommendation for the disc as a whole.