Bax's Music for Two Pianos on Naxos- Review by Graham Parlett
THE SIR ARNOLD BAX WEB SITE
Last Modified September 28, 2007
Bax: Music for Two Pianos (Piano Works, volume 4): The Devil that tempted St Anthony, Festival Overture, Hardanger, Moy Mell, The Poisoned Fountain, Red Autumn, Sonata for Two Pianos.
Ashley Wass, Martin Roscoe (pianos).
Recorded at St George's Church , Bristol , 20-1 November 2006; Potton Hall, Westleton, Suffolk , 21 January 2007 (Festival Overture).
Naxos CHAN 8.570413.
Duration: 64:22.
Reviewed by Graham Parlett
For the fourth volume in his survey of Bax's piano music Ashley Wass is joined by Martin Roscoe, whose Baxian credentials include the first performances of
In the Night
and
Nympholept
(original piano version) and, with Tasmin Little, the finest recording to have appeared so far of the Second Violin Sonata (GMNC 0113). (I am writing before the release of Ashley Wass's own recording of the sonata, with Laurence Jackson, which is due from Naxos in November 2007.) On the evidence of this new CD it is difficult to believe that Wass and Roscoe have not been playing together for many years, so well do they perform as a duo.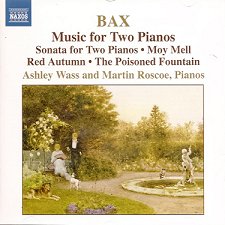 Bax's six published works for two pianos fit comfortably on to a single CD, with room to spare, and on this, only their second complete recording, they are joined by an unpublished arrangement of an orchestral piece. The only two-piano work missing from this CD is the earliest, the immature and uncharacteristic
Fantasia
(originally called Sonata), which Bax wrote shortly after his admission to the Royal Academy of Music in September 1900. It is quite a long, single-movement piece and would require considerable editing to make it performable. The first work on this new CD is the only one never to have been recorded before in this form, namely the
Festival Overture
, which you can hear in its orchestral dress on CHAN 8586 and CHAN 9168. Bax wrote it in the autumn of 1909 and orchestrated it in 1911, with a revised version coming out in 1918. This arrangement for two pianos of the 1911 score exists only in a manuscript which is not in Bax's hand. It was owned by Vivian Langrish, and in his programme notes Lewis Foreman tells the story of his being given the score when he met Langrish by chance on the Tube one day. He was a former pupil of Tobias Matthay and later taught the piano at the RAM. Together with his second wife, Ruth Harte, he recorded
The Devil that tempted St. Anthony
and
The Poisoned Fountain
for the first (and only) Bax Society LP in 1968. Foreman suggests that the arrangement was 'probably made for Balfour Gardiner's rehearsals', by which he presumably means that it was made for Gardiner and someone else to play through in preparation for the orchestral rehearsals. But he leaves open the authorship of the arrangement. It may have been Bax himself, the score then being copied out by somebody else, or it may have been Langrish, though he would only have been 17 in 1911. Whatever its origin, it had its first known professional performance in Bax's centenary year (1983), when Howard Shelley and Hilary Macnamara broadcast it on Radio 3. The overture is Bax's longest, and in form it bears a resemblance to his tone-poems. The outer sections are full of high spirits, with an extended fugato passage (very rare in Bax's music) and then a quieter section that for me always conjures up the image of a procession of Irish tinkers jogging along the road. The slow middle section provides serious contrast and is based on a ground bass heard first as the fugato in the opening section of the overture but here transformed into a passacaglia ― a constantly repeated accompaniment to the majestic melody above it that flowers into quite a grand climax before a bridge passage leads back into a truncated reprise of the opening. The ground bears a definite resemblance to the tune of
The Reel of Tulloch
, which Bax would have known from its use in Alexander Mackenzie's
Scottish Concerto
of 1897. The overture is quite thickly scored in its orchestral guise, and the two-piano version clarifies many of the textures, especially in such a sparkling and rhythmical performance as here. Bax's first published work for two pianos was
Moy Mell
(
The Happy Plain
), which he wrote in August 1916 for Irene Scharrer and Myra Hess, who first played it at the Æolian Hall later that year. The anglicized Gaelic title (for
Magh meall
) means literally 'Sweet Plain' (
meall
being related to Latin
mel
, 'honey') and refers to 'one of the three ideas connected with the ancient Irish conception of the "Happy Otherworld" or Pagan Paradise', to quote Bax. Wass and Roscoe take the work faster than some, but there is no sense of undue haste or loss of expressive feeling, and the ending is beautifully managed. The remaining five published scores were all written for and dedicated to the famous husband and wife duo of Ethel Bartlett and Rae Robertson. They were composed within the period 1927-31 and thus represent Bax in his maturity, though two of them,
The Devil that tempted St. Anthony
and
Red Autumn
are adapted from earlier pieces (now lost) for solo piano. The earliest piece,
Hardanger
(1927), is named after a district in Norway and is written in the style of a Norwegian halling, a reel-like dance adopted by Grieg in several of his works; Bax has written 'With acknowledgments to Grieg' at the top of the published score. It is in a simple ABA form, the dance-like outer sections ― played here with great rhythmic point ― framing a slower folk-like melody. Placed at the end of this CD, it makes a perfect 'encore' piece.
The Devil that tempted St. Anthony
and
The Poisoned Fountain
(both 1928) are much darker scores. The title of the former refers to the temptation of St Antony the Abbot, who was the patron saint of butchers, basket-makers, domestic animals, and grave-diggers. It begins in a fairly conventional way, like a lullaby, but works its way towards one of Bax's most dissonant, chord-clustery climaxes.
The Poisoned Fountain
is a strange and even sinister score. The title refers to the Secret Well of Segais, the source of knowledge in Irish mythology, which stood on the hill of the water-god Nectan and was magically protected. Nectan's wife disregarded the danger and was pursued by the waters of the fountain which drowned her and formed the river Boyne . The work begins with the first pianist, marked Rapid, playing a rather Skryabinesque six-note figure
ppp
and
smorzando
, with the instruction 'Continue quite independently of the beat of the second Piano part', the only example that springs to mind of an aleatoric effect in Bax's music. The second piano then enters
Lento
with an organum-like idea in complete contrast to the impressionistic texture being created by the first piano, which presumably represents the fountain. The whole piece has an unearthly atmosphere, which is very well conveyed in this excellent new performance, which again is faster than the rival versions. The Sonata for two pianos (1929) is in three movements and is by far the longest of the two-piano works. It opens 'In a languorous sunstained mood' before moving on to a quicker, very rhythmical Russian dance-like tune. (I was one of those who used to wonder whether 'sunstained' might not have been a misprint for 'sustained', which is the word Edwin Evans uses in his original programme note for the work; but I now have a copy of the printed score of the Sonata in which Sir Arnold himself in 1944 made a few corrections, and he has not altered the word 'sunstained'.) The slow movement opens with a triplet figure like the one at the beginning of the song
Youth
, which introduces a typically Irish melody similar to the one in the second movement of the Piano Quintet. Much of the movement is clearly sea-music, with impressionistic passages on the first piano against a deep ground swell on the second. The finale is mainly based on Hebridean dance rhythms ― galumphing rather than sprightly ― until material from the first movement is brought back towards the triumphant and exhilarating close. The work has been recorded three times before, but this new version is splendid and successfully integrates the many rapid changes of mood. Bax's last work for two pianos was
Red Autumn
(1931), which, according to the fifth edition of Grove's
Dictionary
, is based on an earlier piece for piano solo (1912). It is, in effect, a miniature tone-poem, not all that far removed in mood from
November Woods
, but much briefer and more enigmatic. Again, Wass and Roscoe play it beautifully. Although some of Bax's two-piano scores had been recorded before (by Bartlett and Robertson themselves on 78s, and later by Frank Merrick and Michael Round on LP) it was not until 1988 that Seta Tanyel and Jeremy Brown recorded all of the published works for Chandos (CHAN 8603). That disc is still available, and very good it is too; but this new CD includes an extra piece (the
Festival Overture
), is about a third of the price, and contains performances that are no less well played; indeed, in many cases I prefer these newer versions. Engineer Mike Clements's sound quality is excellent, and the production is in the safe hands of Michael Ponder, who has been responsible for several other Bax recordings, including his own fine performances as violist in a long-deleted commercial cassette of the Viola Sonata and the
Fantasy Sonata
(ENS 123). But why does Naxos persist in adorning its booklet covers with those sentimental, chocolate-boxy, 'Come into the garden, Maud' watercolours? What has Thomas James Lloyd's painting
Engaged
to do with anything on the disc? Has the person responsible for the artwork ever listened to any of Bax's music? If this were an album of Victorian parlour songs I should have had no cause for complaint, but anything less appropriate for the works on this CD is difficult to imagine. Copyright © 2007 Graham Parlett