Bax's Last Golden Twilight – Ian Lace follows Bax's last excursion from Cork to the Old Head of Kinsale
Bax's Last Golden Twilight
THE SIR ARNOLD BAX WEB SITE
Last Modified August 1, 2002
Below: Aerial View of the Old Head of Kinsale showing the lighthouse at its extremity. It was from this point that Bax looked out over to the Atlantic and enjoyed his last glorious sunset… "The whole sky was ablaze with colour of every possible hue; red, deep orange, yellow and far away on the horizon, there was a pale blue mist. Arnold was lost gazing at it…"
Ian Lace follows Bax's last excursion from Cork to the Old Head of Kinsale.
[Arnold Bax died at Cork at about 9:30 pm on the evening of October 3rd 1953. He had travelled to Dublin in that September for the annual music examinations. They taxed him so much that he felt too tired and unwell to enjoy the social gatherings there. "On September 29 Professor Aloys Fleischman joined them and gave a concert of Bax's work, [with the Radio Eireann Symphony Orchestra], scheduled to coincide with the N.U.I examinations. The principal work was…the Left Hand Concerto with Harriet Cohen as soloist. The final work was The Garden of Fand. It was the last music of his own that Bax was ever to hear, and strange that it should have been Fand, with its tale of Cuchullain setting out for the world beyond the seas.
"It was now time to travel to Cork for the annual examinations there and, a slight chill preventing Miss Cohen from travelling, Bax and Aloys Fleischman went on alone. At Professor Fleischman's home, 'Glen House' in Bally Valane, some guests among them John and Mary Horgan …had assembled to welcome him.
After the examinations it was time to relax - "…It was customary for the Horgans to arrange an outing by car to some spot in that lovely countryside, expeditions which Bax enjoyed immensely. This was no exception... at the Old Head of Kinsale, Bax stood looking out at the seascape in front of him. The scene was full of colour and Bax, lost in the peace and rapt in contemplation of what for him was the very stuff of his musical imagery, had had to be reminded gently by John Horgan that the house party was waiting their return. Who can tell what thoughts passed through his mind as he gazed at the scene…"]
I preface this brief reminiscence of my visit to The Old Head of Kinsale on a sunny yet windswept day in April this year (2002) by quoting from Colin Scott-Sutherland's Arnold Bax (as I also do in the introductory paragraphs above) in which he, in turn, quotes from a letter, from John Horgan to Clifford Bax, telling the composer's brother of Arnold Bax's last hours:
The harbour at Kinsale looking towards the town and Emmet Place Photo - Ian Lace
"…[Bax] was in good spirits but looked very old and tired. I arranged to meet him again on Saturday October 3rd to take him for a drive to Kinsale …we drove from Cork by Innishannon and the south side of Bandon river to the Old Head of Kinsale on the coast which we reached about 5 pm. It was a lovely clear evening with sea, sky and coast at their best. I said it should inspire him to write another Tintagel. We walked up to the lighthouse on top of the Head (only a few yards) and stood for a while looking at the scene before us. We then drove back to Kinsale where we went to look at the old church of St Multose, and then we had dinner at Acton's Hotel. He did not eat much but made no complaints and was quite cheerful. On the way home he told us some amusing stories about Malcolm Sargent and Beecham. He also spoke about Barbirolli, of whom he was very fond, about the Coronation and the Queen. During the drive to Kinsale he kept recalling many of our previous excursions the details of which he remembered with amazing accuracy. We reached my house about 8:30 pm and after greeting my wife he went into the sitting room and she gave him a drink. He sat down and said very little -then after a few minutes he said, "I'm feeling every ill: will you take me home." … He complained of feeling cold and, as he had no overcoat, I put my overcoat on him and a rug round his feet in the car. My wife drove him as fast as she could to Professor Fleischman's house. He was quite conscious and alert in the car and spoke to her several times. Indeed he was rather annoyed when she suggested that he should stay in bed the next day. When he got to the Fleischman's he got out and went upstairs to his room. His face was then blue and he was breathing heavily. Mrs. Fleischman, who was a doctor, saw that he was very ill and rang up our leading physician Professor James Donovan MD, who came at once and gave Arnold an injection, but he was past human aid and died peacefully about 9:30. [coronary thrombosis]."
The Old Head of Kinsale - view looking eastwards from the 'neck' of the peninsular. . A private golf course is now sited on that part that leads to the extremity and the lighthouse. Photo - Ian Lace
After booking into a very comfortable B&B* on the Cork Road at Kinsale, my wife and I set off for the Old Head of Kinsale. We drove out of town on Pier Road by the harbour and alongside the Bandon River estuary until we crossed it to access the peninsular that forms the Old Head of Kinsale (see the aerial view photograph). This is a journey of some 8 miles. We drove up the eastern side of the 'shoulder' of the peninsular passing small, serene sandy bays. Unfortunately we had to stop at the 'neck' of the Old Head because the 'Head' itself, with the lighthouse at its end, is now a private golf course (beginning beyond the rock shown on the right of the photograph). But from high up on the 'neck', which is no more than a couple of hundred yards wide, we had splendid views out to sea both to the east and west towards the Atlantic. On this day the sun shone brilliantly picking out azures, purples and turquoises according to the shoaling of the glassy waters. As we took photographs, the wind stiffened and it was all that we could do to keep our feet. Certainly not the conditions to entice one too close to the cliff edge! A short sharp shower (the weather changes very rapidly here) pushed us back into the car but by the time we had descended again down the peninsular the sun was shining brightly once more. We stopped for lunch at 'The Speckled Door', a pub half way down the 'shoulder' which has a huge conservatory so that we could enjoy the view across the sea to the coastline stretching towards the opening of the Kinsale estuary.
That afternoon we spent a few hours enjoying brilliant sunshine and sauntering around Kinsale itself, admiring the brightly coloured houses and shops and browsing through the fascinating boutiques in the quaint narrow shopping streets. [See the double page spread from the DK Eyewitness Travel Guide to Ireland] The town has many first-class restaurants and indeed the town's annual Gourmet Festival, in October, attracts visitors from all over the world. [There is also a Kinsale Fringe Jazz Festival in October.] Nearby, opposite the car park, behind Church Place, is St Mulrose Church which Bax visited late that afternoon and, in Pier Road, we found Acton's Hotel where Bax had dined. The colourful harbour (see photograph) is busy and bustling. The rattle of yachts' rigging as they swayed in the light breeze mixed with the sound of fishing vessels' hooters as they trafficked up and down the estuary. To conclude a very pleasant day we had tea at the Blue Haven Hotel in Pearse Street with its distinctive clock.
In conclusion, I quote another account of Bax's last hours from Bax - A composer and his times by Lewis Foreman in which he relates that Bax had also toured around Galway, Connemara and Sligo before he left Dublin for Cork. Lewis quotes Tilly Fleischman:- "I think that Arnold would not have wished to die anywhere but in Ireland. He had a deep-rooted love for the Irish people and their country, and was particularly fond of Cork. A few days before his death, he told me he was resigning his position in England and was coming to live here. A friend of his thought he ought to settle in Dublin but he preferred Cork. 'Dublin has become too cosmopolitan.' Writing about Bax's final excursion, Tilly Fleischman continued - "A few hours before his death …he was at the Old Head of Kinsale looking out into the Atlantic. John Horgan who drove him there, said that he never saw such a glorious sunset! The whole sky was ablaze with colour of every possible hue; red, deep orange, yellow and far away on the horizon, there was a pale blue mist. Arnold was lost in gazing at it, and John took him gently by the arm, reminding him that we were all waiting for him…"
The body of Bax is interred in St Finbarr's cemetery in Cork. For the last thirteen years of his life Bax had lived above a pub in the small West Sussex town of Storrington.
* The quality yet budget-conscious deals offered by Irish Ferries are highly recommended. For just approximately £290 you can take a car over and have vouchers for B&B accommodation for seven nights at a choice of hundreds of locations throughout Ireland (they give you books with their addresses).
© Ian Lace; August 2002
The author wishes to thank Colin Scott-Sutherland for permission to quote from his Book, Arnold Bax - J.M. Dent & Sons 1973; and Lewis Foreman for permission to quote from his book, Arnold Bax - A composer and his times - Scolar Press 1983.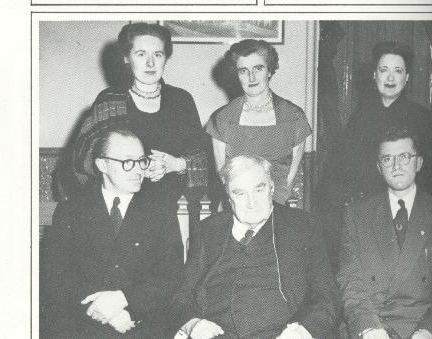 - Excerpt from photo: In October Ralph gave the first of the Arnold Bax memorial lectures at the University of Cork.
(Front Row) Professor Aloys Fleishman, Ralph, and Professor John P. Taegan
(Back Row) Ursula, Mrs. Fleishman, and Harriet Cohen
Picture taken in 1955 and is from Ralph Vaughan Williams - a pictorial biography by John E. Lunn and Ursula Vaughan Williams. Published by Oxford University Press.