Bax inspired fantasy novel reviewed Christopher Webber
MAGISTER by Jonathan Wylie
THE SIR ARNOLD BAX WEB SITE
Last Modified September 1, 2000
---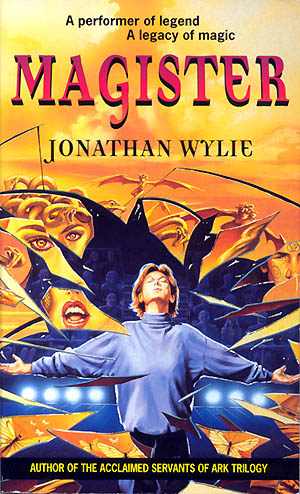 ---
Review by Christopher Webber
Magister by Jonathan Wylie Orbit Paperback (388pp) UK £6.99
This is one of the most curious books I've ever read. Nominally a fantasy novel by Jonathan Wylie - husband and wife team, Mark and Julia Smith - "Magister" is at heart a thinly disguised retelling of the life of Sir Arnold Bax, very much According to Foreman, with a bit of extra plot tacked in.
The story is set in one of those teasing alternative universes, almost recognisable but not quite our own. It's London, 1993. The narrator is a promising young student at the Royal Academy of Magic, Daniel Gillespie, whose first major piece of student magic is about to be publicly performed in concert. The Principal calls him in with a strange request - will he take on a mysterious assignment to work through the private papers of a great but largely forgotten English Master Magician who died 40 years before, in 1953? The magician's room has been locked and sealed since then, according to the terms of his will, so who knows what it may contain? Daniel unlocks the room at the White Hart Storrington, and discovers a treasure trove of magical manuscripts - plus the private diaries of the great man himself, Sir Edward Beck.
Sounds familiar? Substitute Music for Magic, Horse for Hart, and we know who we're talking about. The diaries follow the familiar course of Bax's biography in surprising detail, with variations allowable to an alternative universe. Some of Beck's least neglected Celtic "Magics" are evoked in technicolour detail, including "In the Fairy Hills", "Tintagel" and his masterpiece "The Garden of Fand"; as well as one or two which we don't - quite - know, such as "The Grey Dancer in the Twilight". All the familiar women are here, notably Eleanor Callaghan (Harriet Cohen) and May Gillespie (Mary Gleave). The young Beck is even provided with his femme fatale from the Ukraine. May Gillespie emerges as the crucial figure in what plot there is, turning out to be Daniel's grandmother. Is she alive, or dead? Read the book to find out. In the course of the story we visit Storrington, Morar, Glencolumcille and Cork. The major imaginative extension to Foreman's factual account is the introduction of Peter Tallis (Warlock), here a close friend of Beck's who dabbles in Darker Magics after a bad experience in World War 1.
To dispense with the critical formalities, "Magister" is a poor novel. Not illiterate or sloppily written, just thinly plotted, with no real accumulation of tension, mystery or excitement. Alternating chunks of Bax's - sorry, Beck's - diary, Daniel's narrative, and fruity descriptions of the Magics make for a clunky structure. The invented characters are thinner ghosts than the transmuted real ones. Quite what fantasy fans made of it, I can't say.  Not much, I suspect.
Nonetheless, for any Baxian it is a compulsive read. We can enjoy the alternative "What ifs" - what if there had been no Christianity, for example? We can share in the quiet fun the authors had with the magic/music substitution - the mature Beck turns to writing large-scale, abstract pieces called Spells, and becomes Master of the King's Magic; whilst Eleanor becomes a leading exponent of solo magery. We can relish the evident love they have for Bax's music, more especially the devoted cataloguing of their visits to Sussex, Morar and Ireland. Best of all, there are at least a couple of good dialogue scenes - one for Beck and Eleanor, another with May - which do succeed in illuminating the strange psychology of their subject. At such moments, "Magister" really touches on something which even Foreman never quite penetrates, and Sir Arnold Bax - to whom the book is dedicated - stands before us in tangible, and dare I say almost magical, reality.
© Christopher Webber 2000