Bax Gould Piano Trio – Review by Graham Parlett and Christopher Webber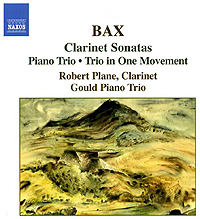 Sir Arnold Bax Website
Bax: Sonata in D for clarinet and piano; Sonata in E for clarinet and piano; Romance for clarinet and piano; Trio in B flat; Trio in one movement; Folk-Tale for cello and piano.
Robert Plane (clarinet), Gould Piano Trio: Lucy Gould (vn.), Alice Neary (vc.), Benjamin Frith (pf.). Naxos 8.557698.
Review by Christopher Webber
Like the rest of his post-war output, Bax's 1946 Piano Trio looks backwards rather than forwards, preferring geniality to the vigorous intensity of much of his earlier chamber output. No wonder it was so unfashionable. There is even an unexpected late-Elgarian cast to the main – and memorably lovely – theme of the slow movement, shaped here with just the right amount of gentle dignity. Maybe its hour has finally come; because everything seems right (and tight) about this performance, which never gets bogged down at the expense of overall flow, yet remains as alert to Bax's sunlit shafts of wit as to as his romantic warmth. The Goulds obviously love playing the piece, and – highly commendable though the Pirasti Trio's performance on ASV remains – they've made me love it too. The Sonata in D for Clarinet and Piano (1934) came from a more impassioned world, recalling in its first movement the brooding depths of the 2nd Piano Sonata, in its second the sulphurous scamperings of the Viola Sonata's middle movement. Much-recorded it may be, but Robert Plane and Benjamin Frith's version can hold its head up in the best company. Frith in particular commands such nuanced sensitivity that one wishes Naxos had let him and not Ashley Wass loose on Bax's solo piano repertoire. There's a natural, unforced ebb and flow to the first movement, a madcap energy to the second which makes for entire satisfaction. If anything the deeply emotional
Folk-Tale
(1918) comes off even better, with Frith and the Gould's cellist Alice Neary making an ideally symbiotic partnership. When it's as dynamically, dramatically concentrated as here there's a substance and range of moods in
Folk-Tale
which belie its brevity. In Waley's words, "How did it come to be neglected so?" Good though the Pearl and ASV alternatives are, Neary and Frith's imaginative depth make this the class of the field. The remainder is early work, assured enough but mainly of interest to specialists looking to trace Bax's burgeoning personality. Lewis Foreman argues in his notes that the 1901 clarinet-piano Romance should be regarded as the second and concluding movement of the Sonata from the same year. Plane and Frith treat all this elegantly Brahmsian material with undemonstrative expertise, and although much of it comes over like clever play-acting rather than real music, it's still plenty of fun. The principal theme of the 1906 Trio (in its clarinet rather than viola version) is equally conventional, but develops much more personally with rhythmic, harmonic and instrumental twists which will remind sympathetic listeners of much later Bax, Irish-inspired and otherwise. The piano drives the music forward as firmly as in the magnificent Piano Quintet from eight years later; but though Bax was harsh later in life to dismiss the 1906 Trio as a "derivative and formless farago", exuberant piano writing can't disguise the middle-of-the-road nature of much of the material. This release is right up there with the Maggini's set of the String Quartets as one of the finest feathers in Naxos ' Baxian cap. Such a well-conceived programme, allied to playing of consistent musicality and enthusiasm, supported by excellent notes and Michael Ponder's brightly truthful Potton Hall recording, deserves every accolade.
© Christopher Webber 2006
Review by Graham Parlett 
This new CD in the ongoing Bax series from Naxos contains some absolutely superb performances and should be snapped up without hesitation. The phrase 'Clarinet Sonatas' on the front cover may come as a surprise to even the most ardent Baxophile, for whom there is surely only one score with this title. However, what we have here is not only the well-known Sonata in D of 1934 but the first recording of a recently discovered two-movement piece dating from 1901, during the composer's first year as a student at the Royal Academy of Music. The manuscript was found by Tony Dutton, the nephew of George Alder, among the latter's papers, together with a hitherto unknown one-movement Horn Sonata from earlier in the same year. Alder was a horn-player and a composer himself as well as being a personal friend of Elgar (see the Elgar chapter in
Farewell, my Youth
). In his programme notes, Lewis Foreman remarks that the clarinet work was probably written for another, unknown fellow student; but he has since discovered evidence that Bax himself took clarinet as a secondary subject at the Academy, hence his interest in the instrument at that period. Unfortunately, by the time Foreman had discovered this, it was too late to amend the CD note. There appear to be two movements: an Allegro moderato and a
Romance
, the latter also existing in another manuscript with the title
Intermezzo
. There is no definite proof that the 
Romance
is part of the Sonata, and Naxos have listed the two movements separately. However, the
Intermezzo
version has the numeral '2' at the top of the manuscript, suggesting that it was indeed intended as the second movement. The music is full of youthful confidence and attractive melodic material, and it exploits the clarinet's wide range, though, as with other early works by Bax, such as the String Quartet in A, I should not have guessed the composer from hearing it with an innocent ear. It sounds very much a late 19th-century piece, with hints of Dvořák, Brahms and, especially in the
Romance
, Tchaikovsky. This is, by the way, the earliest work by Bax to have been commercially recorded, predating the Violin Sonata in G minor (available on ASV) by a few months. The new performance of Bax's mature Clarinet Sonata is the sixteenth to have appeared on disc since it was first recorded for LP by Stanley Drucker and Leonid Hambro (Odyssey label) and by John  Denman and Hazel Vivienne (Revolution label), both issued in 1971. It is thus his most frequently recorded work. I can claim to have heard all the recordings, except for the one by Lars Aabo and Semion Balshem on the Rondo label, which is elusive. (It also contains a work by Stockhausen ― surely the only time that he and Bax have shared a disc.) Although I have made no attempt to conduct a comparative survey, I have no doubt that, if one were to be done, this new recording would come at or near the top. (Glad to see, by the way, that it is correctly designated 'Sonata in D' and not 'in B flat', as the Chandos recording has it; it is scored for a B-flat clarinet, hence the misunderstanding.) The performers play with great energy and feeling throughout, and the frequent changes of tempo and mood in the first movement are very well integrated. The second movement, which almost seems to anticipate 'The Chase' in Bax's
Oliver Twist
film score, goes like the wind, as it should. There then follows a wonderfully atmospheric and moving performance of the
Folk-Tale 
for cello and piano, which dates from 1918. For a long time, and on the basis of the old Florence Hooton performance on a defunct and murky Lyrita LP, I had dismissed the work as being of little interest ('...it is a pity that she and her pianist Wilfrid Parry sound as if they recorded it in a broom cupboard', remarked one reviewer). But hearing Moray Welsh's and then Bernard Gregor-Smith's recordings (on Pearl and ASV respectively) I realised that I had seriously underestimated it. Both those cellists play it very well indeed, but this new recording has the edge, I feel, on account of the superior sound quality and the depth of feeling that the performers bring to the work. Lewis Foreman, in his notes, dismisses the subtitle, 'Conte Populaire', as being inappropriate, but it is in fact just a French translation of the main title. It has nothing to do with 'popular song' but rather with the kind of sombre tales ('contes') that were collected by the Grimm brothers, and it is clear that this is another of Bax's 'legend' pieces telling of dark happenings long ago; or perhaps, as Foreman suggests, of more recent, tragic events in Ireland. Alice Neary and Benjamin Frith both have the measure of the piece and bring out its melancholic, brooding atmosphere to perfection. The latest work on the CD is the Trio in B flat for violin, cello and piano, which Bax wrote for the Harry Isaacs Trio in 1945-6. It turned out to be his last chamber work, even though he lived for another eight years, and a good piece it is too. After many decades when it was never played at all, a revival in 1983 by the Music Group of London Piano Trio eventually led to two commercial recordings, with the Borodin Trio on Chandos and the Pirasti Trio on ASV. Of the two, I preferred the latter, the Borodins being, as Bax once remarked of Brahms's piano concertos, 'too full of beer and pudding'. But I think that this new performance is even better than the Pirastis'. As with all the other pieces on the disc, the players attack the work vigorously and give it a good sense of forward momentum, something that is often missing from performances of Bax's music (such as the recent Meridian version of the Piano Quartet, which is cautious and dull). It is obvious that the players believe wholeheartedly in the music, and this communicates itself in their marvellous performances. The yearning, romantic middle movement can easily get bogged down in sentiment if taken too slowly, but here the players have noted the direction
con moto
, which follows the tempo marking Adagio, and move it on to good effect. The finale, which is mostly in 5/8 time (rare in Bax's music), has a splendid rhythmic vitality even while the players observe the Moderato marking. As is well known, Bax came to loathe his Trio in One Movement for violin, viola and piano (1906): 'I wish the devil would fly away with the whole remaining stock of the damned thing and give himself ptomaine poisoning by eating it!', he wrote in 
Farewell, my Youth
, describing it as a 'derivative and formless farrago'. Nevertheless, the piece appeared in print and, as copies still circulate, it was inevitable that someone would eventually get round to recording it. There was in fact an earlier recording, on a commercial Ensemble tape cassette, but that had little publicity, so that for all intents and purposes this is its first recording, and certainly the first on CD. The issue is complicated further by the fact that Bax authorised performance of the viola part by a clarinet, though no clarinet part exists in print. Indeed, I am beginning to think that the work may originally have been written with clarinet and that Bax changed it to viola, which has a  similar range, when he came to publish it, on the grounds that it would be more likely to get played in that form. That would explain why the tessitura is so high for the viola and why the part contains no double stopping whatsoever. Also, in the 1907-8
Year Book of the Society of British Composers
it is listed as 'clarinet (or viola)' rather than the other way round. Anyone curious to hear the version with viola, however, will not have long to wait, since Naxos already have a recording of it awaiting release on a CD in which Martin Outram (of the Maggini Quartet) plays several of Bax's viola works. Once again, this new performance from Robert Plane and members of the Gould Trio is a revelation, and the score emerges as a much more enjoyable piece than I had thought or that Bax's dismissive words would suggest. Derivative it may be in parts ― there are hints of Strauss, Debussy, Irish folk music, even Brahms in Hungarian mood ― and some pruning might not have come amiss before the composer sent it off to the printers; but it is an inventive, dance-like score, full of the joys of life, and occasionally Bax's real voice emerges, as at 13:22, where a characteristic repeated dotted rhythm (as in the finales of the later Piano Quintet and Second Symphony) adds a note of intensity and menace. The players attack the piece with the utmost vigour, managing to negotiate its many changes of tempo and mood with ease, and it is difficult to imagine a better performance. The high spirits of the coda (marked, very unusually for Bax, Prestissimo and later Prestissimo possibile) are irresistible and bring this very well-filled CD (nearly 77 minutes) to an exhilarating conclusion. The quality of the recording (made in Potton Hall and produced by Michael Ponder) is good, as are Lewis Foreman's notes, and in a pathetic last-minute attempt to find some fault with this new CD, I could only fall back on noting that, when listening on headphones, you can hear the clicking of the clarinet keys and nasal intakes of breath from one of the players. But short of inventing a new kind of clarinet or a performer who only needs to breathe every ten minutes or so, there is not much that can be done about this ― except, of course, to listen through speakers, which most people do in any case. This splendid new issue is a must for all Baxians, not only for the world premières but for the stunning performances of all the other pieces. Buy it without delay! © 2006 Graham Parlett