Bax Featured in Recent Publications from Boydell & Brewer
The Best Years of British Film Music, 1936-1958 by JAN G. SWYNNOE
Parry to Finzi: Twenty English Song-Composers by TREVOR HOLD
THE SIR ARNOLD BAX WEB SITE
Last Modified February 21, 2002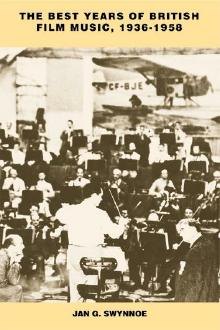 The Best Years of British Film Music, 1936-1958 Jan Swynnoe's study is concerned with the special British contribution to film music, detailing how the idiosyncrasies of British film, and of the British character, set it apart from its Hollywood counterpart. She shows how the differences between the two industries in all aspects of film making variously affected composers on both sides of the Atlantic. In the mid 1930s, when film composers in America were perfecting the formulae of the classical Hollywood score, film music in Britain scarcely existed; within a year or so, however, top British composers were scoring British films. How this transformation was brought about, and how established British concert composers, including Vaughan Williams and Arnold Bax, faced the challenge of the exacting and often bewildering art of scoring for feature film, is vividly described here, and the resulting scores compared with the work of seasoned Hollywood composers. JAN SWYNNOE researched the material on which her book is based over several years, at the same time pursuing her musical life as pianist, percussionist and composer. 8 b/w illus.; 264pp, 23.4 x 15.6cm, 0 85115 862 5, £40.00. Published March 2002 SPECIAL PRICE £30.00 CONTENTS: Differences between British and American Films: a historical perspective; Formulae in the classical Hollywood score; A comparison between British and American composers in their approach to film scoring; British composer's use of themes for narrative development; Arnold Bax's musico-dramatic treatment of Oliver Twist; Three other first attempts at feature film scoring: The 49th Parallel, The Halfway House, and Blue Scar; Dialogue scoring in British films in the 1930s; The impact of the Second World War on British films and developments in dialogue scoring in the 1940s; A look at some British films scored by foreign composers; The decline of British cinema and the consequences for British film scores; Appendix A: The author in conversation with Roy Douglas (01.08.1993); Appendix B: 'The True Story of The Warsaw Concerto' by Roy Douglas; Appendix C: Interview with Doreen Carwithen (02.07.1997). Parry to Finzi: Twenty English Song-Composers The composers in this book represent the outstanding songwriters from what we can now see was the golden age of English romantic song. As well as the major figures - Parry, Stanford, Vaughan Williams, Quilter, Ireland, Gurney, Warlock and Finzi - there are chapters on lesser-known composers, such as Denis Browne and Charles Orr. Detailed consideration is given to songwriters such as Arthur Somervell, Armstrong Gibbs and Herbert Howells, who have suffered unaccountable neglect, and there are chapters on composers such as Elgar, Delius and Holst, whose reputations were made in other fields but whose contribution to English song is nevertheless important. Each chapter begins with a discussion of its composer's song-output and of the poets and poetry he sets, and goes on to give an account of the influences on him and the hallmarks of his style; the songs are then discussed in detail, focusing on the major works. The text is illustrated with musical examples and there is a comprehensive bibliography and index. TREVOR HOLD is a noted composer and poet who was born and bred in Northamptonshire where he still lives. He has written extensively on English song; he lectured in music at the University of Leicester between 1970 and 1989. 272pp, 23.4 x 15.6cm, 0 85115 887 0, £45.00. Published July 2002. SPECIAL PRICE £33.75 CONTENTS: Introduction; Hubert Parry; Charles Stanford; Edward Elgar; Frederick Delius; Arthur Somervell; Ralph Vaughan Williams; Gustav Holst; Roger Quilter; Frank Bridge; John Ireland; Arnold Bax; George Butterworth; Denis Browne; Armstrong Gibbs; Ivor Gurney; Herbert Howells; Charles Orr; Peter Warlock; E.J. Moeran; Gerald Finzi. Appendices: 1. Chronological Check-List of English Song-Composers, Parry to Finzi; 2. Principal Music Publishers; 3. Glossary; 4. Bibliography. SPECIAL OFFER: As publisher of these two forthcoming books featuring the work of Arnold Bax, Boydell & Brewer is happy to make them available to visitors to the Sir Arnold Bax website with a special 25% discount, for a limited period only. The special offer prices are: The Best Years of British Film Music @ £30.00 and Parry to Finzi @ £33.75. These prices are exclusive of postage and packing, so please add £2.00 to any order, no matter how many books are included. To order securely on-line please click here:
http://www.boydell.co.uk/souk.htm
Alternatively please contact the sales office at PO Box 9, Woodbridge, Suffolk IP12 3DE, tel. 01394 411 320, fax 01394 411 477, e-mail:
boydell@boydell.co.uk
. Please make cheques payable to Boydell & Brewer Ltd. This offer ends 31July 2002. Please ensure that you quote the reference number =02035 to ensure that you receive the correct discount.