Ashley Wass plays Bax Piano Music Vol.3 – reviews by Graham Parlett and Christopher Webber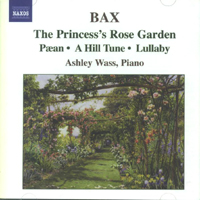 Bax: What the Minstrel told us, A Mountain Mood, The Maiden with the Daffodil,Pæan, A Hill Tune, Mediterranean, The Princess's Rose Garden, Two Russian Tone-Pictures, Lullaby, Sleepy-Head.  
Ashley Wass (piano). Naxos 8.557769.  
Review by Graham Parlett
I enjoyed the first two volumes in Ashley Wass's Bax series, and this new disc displays many of the admirable qualities that the pianist brings to this kind of music.
What the Minstrel told us
is one of the composer's more substantial shorter pieces and opens the recital imposingly. Wass plays the outer sections with that sense of subdued emotion and concentration familiar from his performances of the sonatas. The middle section, in contrast, I found to be a little on the staid side. It is marked
Allegro feroce
and needs to be played with a kind of reckless abandon, as it was at an electrifying performance I heard in 2003 at the Royal Academy of Music, when it was given by a young Japanese student, who approached it with great seriousness, as if he were tackling one of Beethoven's later sonatas.
A Mountain Mood
, which follows, is a set of miniature variations on an attractive little theme announced at the start, and Wass plays it quite charmingly and with close attention to detail.
Pæan
is an awkward piece to bring off, not because the notes are particularly difficult to play, but because the mood is so consistently brazen and hectoring; it is hard to sustain the atmosphere throughout without tiring the listener. I think that it needs to be played faster than it is here, though, to be honest, I am not sure that I have ever heard a satisfactory performance of the work, at least in this original piano version: the orchestral arrangement ― deafening though it is ― at least allows for a greater contrast in tone colour, and the playing of the merry organ towards the end can induce a kind of exhilaration to compensate for the feeling that one is being bludgeoned to death.
A Hill Tune
, by contrast, is one of Bax's most delightful miniatures, and there have been some good performances on disc. Ashley Wass plays it most sensitively, though his initial tempo was a little faster than I expected. I have never much cared for
Mediterranean
, in any of its arrangements, though I love the description of it in an advertisement on the back cover of one of my Murdoch scores: 'In three-four time rubato which at one moment may suggest Barcelona to you or at another Naples, its atmosphere is so generous'! Wass makes the most of the piece, and likewise
The Princess's Rose Garden
, which follows it on this disc. (Harriet Cohen used to call the little area of flower tubs on the balcony of her mews flat by this name.)
The
Two Russian Tone-Pictures
(misprinted on the back of the CD as 'Two Russian Tone Poems') are souvenirs of Bax's trip to Russia and the Ukraine in 1910, as recounted in
Farewell, my Youth
. The
Nocturne: May-Night in the Ukraine
is dedicated to 'Olga and Natasha', the real names of the two girls called 'Fiammetta' and 'Loubya' in his book. ('Fiammetta' was Olga Antonietti, who later had an affair with Clifford Bax.) I very much enjoyed Wass's beautiful performance of this evocative picture postcard, and its companion,
Gopak
, dedicated to Tobias Matthay, receives a rhythmical and pointed interpretation, though rather slower than we are used to ― more akin to Bryden Thomson's recording of the orchestral version.
Finally we have sensitive performances of
Lullaby
and
Sleepy-Head
, two more slow, dreamy pieces. And this brings me to my only mild reservation, which is more to do with the programming than anything else: there is just too much slow music and not enough contrast in mood ― though I can imagine that, if you are in a drowsy or mellow frame of mind late at night and feel like listening to something that will make you nod off, then this may well be ideal. For more wide-awake listening it might have been better to have included some of Bax's faster, more vigorous pieces, such as the
Toccata
, or the
Phantasie
(from the Four Pieces of 1947), or even the early
Concert Valse
. This new disc, which is as well recorded as its predecessors and has a pretty picture on the front of the booklet, will doubtless be snapped up by people who have bought the first two discs in the series. For newcomers to Bax's piano music, I should recommend starting with volumes one or two and then relaxing into volume three.
© Graham Parlett 2006
_____________________________________________________________
Review by Christopher Webber
Performers, like aging tennis stars, are sometimes subject to the law of diminishing returns. Ashley Wass's first two Bax albums created an impressive effect. They inclined to the monumental, true, but his clarity and integrity in the first pair of sonatas disarmed criticism. When the Third and Fourth, equally romantic but more subtly fluid in mood, got the same treatment, rapture was modified. With the third CD the stonemasons have apparently moved in, for Wass's marmoreal playing does little to bring these appealingly varied shorter pieces to life. When nearly everything is so cautious, slow and ponderous it's hard to enthuse.
What the Monstrel Told Us
begins with fitting oratorical flourish, but the yearning song that follows is four-square, dynamically static without enough sense of freeform inspiration. Such a bar-bound bard is all too likely to send listeners in the same direction. Where the melody of
A Mountain Mood
is marked
Simple, and moderate in tempo
Wass reads
Cumbersome, and slow
- nor does he pay too much attention to Bax's later tempo and dynamic changes. The elfin
Maiden with the Daffodil
remains charmless where her phrases are not lightly, clearly articulated. Here and elsewhere Wass seems pre-occupied with sounding each individual note, often at the expense of the phrase. Thus the heady, scented air of
May Night in the Ukraine
is rendered stale, the succeeding
Gopak
rhythmically inert and unsmiling.
So it goes on... and by the end I fear this listener had been reduced to unconscious empathy with the final title,
Sleepy-Head
. Wass's half-digested traversals certainly do not displace Iris Loveridge's urgent, poetic readings on long-vanished Lyrita LPs. Even Eric Parkin – hardly the last word in Celtic flamboyance – sounds imaginative by comparison. Wass perhaps needs the experience of playing these pieces more frequently to live audiences, if he is to paint Bax's spectrum of water-colour moods with justice. For now, all is unremitting, thick brown, oily impasto.
© Christopher Webber 2006