Ashley Wass Bax Piano Music Vol. 1 reviewed by Graham Parlett and Christopher Webber
BAX PIANO MUSIC (NAXOS) THE SIR ARNOLD BAX WEB SITE Last Modified 4th August 2004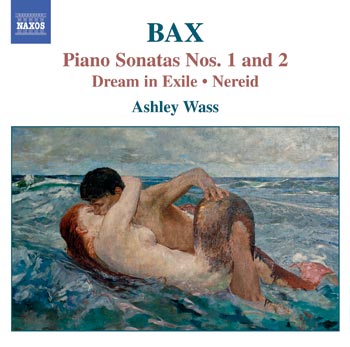 Arnold Bax: Piano Music Vol.1 Ashley Wass
(piano) Piano Sonata No.1; Piano Sonata No.2; Dream in Exile; Burlesque; Nereid; In a Vodka Shop
Naxos CD 8.557439
(74:27)
Review by Christopher Webber
Unlike the symphony, the piano sonata has attracted few British composers of highest calibre. Arnold Bax is the exception. His four, published between 1921 and 1934, stand at the summit of the late romantic sonata repertoire, for their technical difficulty as well as consistent musical quality. They are amongst his greatest works in any medium; so all the better that young British pianist Ashley Wass's first instalment in his new, Naxos cycle is without a shadow of doubt the best recorded and best played Bax piano CD to come before the public.
From the imperious opening bars of the Russian-inspired
Sonata No.1
Wass, First Prize Winner in the 1997 World Piano Competition and finalist in the 2000 Leeds event, shows mettlesome qualities. His watertight technical security, impressive articulation and dynamic control are fully at the service of the music; what's remarkable is the effortless way he follows every tempo and dynamic marking in Bax's score without any loss of musical line. The Sonata's shifting moods – exhilarating, tender, tempestuous and sombre by turns – are clearly drawn without ever turning the piece into a mere emotional rollercoaster. Its cogency is more strongly conveyed here than in the other, modern recorded versions. Marie-Catherine Girod (3D) sounds imprecisely rhapsodic after Wass, whilst on Chandos Eric Parkin – as so often in Bax – sounds overstretched, rushing his musical fences to get them quickly over and done with. At 22:27 Wass is anything but quick: Frank Merrick's antiquated, gung-ho LP version is three minutes faster and has more urgency, plus an overwhelming sense of tension released through the pealing bells of the Russian Easter Festival-inspired coda. Merrick performed the work in public for many years before setting down his version, and familiarity allowed him to live more dangerously. This cavil aside, Wass's technical security and musical integrity make his
Sonata No.1
the clear interpretation of choice. Competition is stronger in the Lisztian
Sonata No.2
, a masterwork built in many ways on its predecessor, still sectionally developed but more reflective, varied and balanced in mood. Blessed with some of the most haunting themes Bax ever conjured, it has been well served on record down the years, notably by John McCabe (Continuum CD) and Peter Cooper (Pye LP.) Wass once again exercises a spellbinding technical control, his smooth legato and beautifully nuanced dynamics giving special pleasure. The basic pulse is daringly slow – this is by nearly three minutes the longest version on disc – and though concentration holds, Bax's contrasts of tempo don't always register as boldly as they might. McCabe invests the work with craggy grandeur, and Cooper's passionate, Celtic jewel of an account retains a special place in Baxian affections; but with the exception of an over-deliberate Funeral March in the coda, Wass's account of the
2nd Sonata
is absorbing as any on CD, all in Naxos's smoothest, most lucid sound. The four other tracks are nicely programmed to make up something of a suite by themselves. More Debussyian in mode though not mood, some of Bax's shorter pieces are scarcely less memorable than the sonatas themselves. For two generations Iris Loveridge on Lyrita LP has been the touchstone in Bax's simpler though far from simplistic inspirations, but Wass sets a new standard. His impressionistic
Dream In Exile
is once again far from hurried, which allows its generous big tune to come through with heart-warming strength; the sensual water sports of
Nereid
benefit from Wass's impeccable musical line;
Burlesque
and
In a Vodka Shop
add robust good humour and stronger colour to the mix. In short, it's difficult to imagine them better done. I do wonder about the decision to programme the two sonatas line astern, the four 'shorts' trailing in their wake. Logical maybe, but with the substantial
Dream of Exile
coming first of the fillers we get no respite from Bax's tumultuous intensity until the
Burlesque
, only a few minutes from the end of the CD. The two sonatas are alike in concentrated, single-movement architecture, and in the grand scale of their emotional demands. It would surely have been better planning to have separated them with the group of smaller works. Otherwise there's nothing whatever to grumble at. Bax's inspiration is unflagging, the Naxos engineering excellent, Wass's playing always satisfying and often remarkable. Michael Endres is due to record the cycle soon; and whilst – if the impact of his live Bax performances is anything to go by – he may bring bigger guns to bear without losing anything in technical precision, for now Ashley Wass's Bax stands in a class by itself. This would be a bargain at triple the price.
© Christopher Webber 2004
Review by Graham Parlett  
Bax's First Piano Sonata has quite a convoluted history, as can be seen from the inscription at the end of the published score: 'Written in Russia | Summer 1910 | Revised 1917-1921'. It was originally composed as a
Romantic Tone-Poem
during the composer's extended sojourn in Russia and the Ukraine in vain pursuit of the beautiful Natalia Skarginska, and the final pages are a recollection of church bells heard in St Petersburg at Easter 1910. The work was performed in this version by Myra Hess in 1911, and eight years later, in October 1919, she played it again, this time under the title
Symphonic Phantasy
. In June 1920 Harriet Cohen performed it under the title 'Sonata', and finally, in 1921, it was moulded into its final shape and published the following year. The first recording of the work, by Iris Loveridge, came out on a Lyrita LP in 1959, and there have since been performances from Frank Merrick, Joyce Hatto, Marie-Catherine Girod, Eric Parkin and, most recently, Joseph Long (on a privately-issued CD). Wass favours generally broad tempi in this work, as also in the Second Sonata, but, unlike some other slower performances (I shall refrain from mentioning any names), this one has a sense of forward momentum, and the pianist's skilful use of light and shade in his playing, coupled with a close adherence to the dynamics written in the score, adds to this impression. The
Non troppo lento
passage on p.5 (beginning at 2:08) is certainly slower than I have ever heard it, but this is compensated for by the expressiveness of the playing. And this is one of the great things about the performances on this CD: Wass has a real flair for bringing out the poetry behind the notes without pulling the music to pieces and distorting the general flow; and he is certainly never dull. Although he is seldom barnstorming (as in Michael Endres's performances of this work in Germany ), he can certainly play with passion and ruggedness when required. I especially liked the gradual acceleration that begins on p.18 (at 12:39 ), and the final page, with its
molto pesante
pounding octaves, is played with tremendous power. Wass pays greater attention to Bax's dynamic and expressive markings than many previous performers, and I am glad to see that he correctly interprets the composer's curved brackets in front of chords as indicators of arpeggiation; many pianists mistakenly think that they mean the opposite: perhaps not surprisingly considering that Bax alternates them with squiggly lines seemingly at random, as in the Second Piano Sonata, where he uses both methods of notation in the same bar (the fourth of p.14). That the round bracket does represent arpeggiation is confirmed in Gardner Read's book on musical notation and by the fact that Bax often uses the sign in front of chords, such as triads, that a pianist would otherwise naturally play unspread. The Second Sonata (published in 1921, a year before its predecessor) has been recorded by most of the pianists mentioned above, together with Peter Cooper (on a Pye LP and cassette) and John McCabe (on a Continuum CD). At just under 28 minutes, Wass's performance of this work is again on the slow side, but listening to this rapt, concentrated account of one of Bax's greatest piano works I was held in thrall from the first note to the last. The composer told Frank Merrick that the score 'in some degree typified a struggle between good and evil', and this sense of strife is well brought out in Wass's performance. The sinister opening pages are played comparatively straight: that is to say the pianist manages to conjure up the dark atmosphere without resorting to theatrical exaggeration, and the doom-laden repeated chords starting on p.2 (around 0:51) are played with a kind of icy disdain. The difficult transition from this slow-moving, oppressive morass of sound towards the 'Brazen and glittering'
Moderato eroico
is very well managed. The speed for this new section strikes me as being just right, and the pianist brings out the very Russian-sounding quality of the music, with its rich, scrunchy chords and piercing fanfares. The ensuing
Allegro moderato
section is again slower than in many previous performances, but it also has an attractive ebb and flow. The
Lento
starting on p.14 ( 10:18 ) is marked 'very still and concentrated', and this is exactly how Wass plays it: you could, as it were, hear a pin drop. I was initially surprised that he takes the
Vivace
at 13:37 so steadily; but the word means 'lively', after all, not 'fast', and he certainly makes the passage sound rhythmically alive. The passage beginning around 16:51, with the left-hand marked 'p like a Tuba', is beautifully managed, and the return of the
Moderato eroico
, now marked
Molto largamente
, brings a real sense of achievement, the forces of good having finally triumphed over evil. The whole of the final section, with its slow build-up to a
fortissimo
climax and then a gradual
diminuendo
, is quite mesmerising. In short, this is one of the very best performances of the sonata that I have heard. The four other pieces on this disc are also played with great skill. Again,
Dream in Exile
is slower than in previous accounts, but it also has more depth of feeling. I have certainly never heard a better performance of
Burlesque
, a knockabout piece which Wass plays with just the right kind of light touch and sense of fun. After the cool limpidity of
Nereid
, which is most sensitively done, the recital finishes with a splendid performance of
In a Vodka Shop
, that 'alcoholic slander' on the Russian way of life, as a Soviet music critic once called it; he would undoubtedly have been outraged by Wass's boisterous account of it. The quality of Naxos's recorded sound here is very good indeed, and the detailed notes are by Lewis Foreman. I was most impressed by this first installment in Ashley Wass's cycle of Bax's complete piano works and look forward to the remaining volumes with keen anticipation.
©
Graham Parlett   2004