Ashley Wass and Tippett Quartet play piano quintets by Bax and Bridge- Review by Ian Lace
PIANO  QUINTETS BY BAX and BRIDGE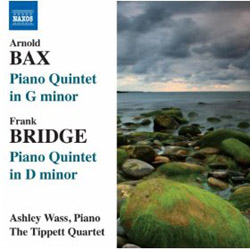 Sir Arnold BAX (1883-1953)
Piano Quintet in G minor (1914-15) [41:10]
Frank BRIDGE (1879-1940)
Piano Quintet in D minor (1904-05) [27:08] Ashley Wass (piano) The Tippett Quartet rec. St Silas Church, Chalk Farm, London, 17-19 December 2009 \
NAXOS 8.572474
 [68:18] Review by Ian Lace
"
[Bax's] tunes that haunted me were the cello phrase opening Bax's Piano Quintet and the viola tune from Tintagel
."
–
Felix Apprahamian - writing in March 1982 for the Foreword to the First Edition of Lewis Foreman's
Bax – A Composer and His Times.
Bax's Piano Quintet is a long-spanned, sprawling, complex work - possibly too complex - certainly Lewis Foreman in his biography of the composer suggests it is. There is an impression of there being larger forces at work here than just a quintet. It stands at the end of the period of his early works and marks a shift in style to a more mature outlook. It can be seen to be pointing the way towards his symphonies of the 1920s and 1930s. The string writing includes many colourful effects while the piano part is beautifully sensitive and decorative as well as assertive. The first two movements were written very swiftly in mid-July 1914 but the third movement did not follow until the Great War had been raging for several months. As Bax's biographer, Lewis Foreman suggests, "its colder atmosphere may well reflect the dark and ominous cloud that had darkened the sunny landscape of the earlier movements." Bax's Piano Quintet was first performed at a private gathering of a Music Club Concert in London's Savoy Hotel on 19 December 1917 with Harriet Cohen and the English String Quartet. It is tempting to think that Bax might have revised some of its music between its conception and this private performance. Some part of its influence might have been not just the Great War but also the events in Ireland and, especially, the early experiences of his turbulent relationship with his lover, Harriet Cohen. It should be stated that Bax did not give any clue as to any proposed programmatic origin for this remarkable work. Yet his detailed expressionistic score markings would suggest that there could have been a non-musical inspiration. Enigmatically what might be regarded as Spanish inflections may be discerned, in the second and third movements. The Quintet opens with defiant, muscular piano chords and a portentous cello theme redolent of the tempestuous and passionate music that comprises so much of this epic, almost 19-minute-long opening movement. There are quasi-dance measures, sometimes merry, at other times wild and frenzied. The movement's lyrical episodes are tinged with yearning and possibly nostalgic regret. Celtic influences and liturgical elements are also apparent. The complex slow movement commences with pizzicato string chords. Rippling watery piano figurations accompany a slowly-unwinding, serenely-romantic string melody. Another liturgical figure arises counterpointed by a persistent figure that is uncannily like Bernard Herrmann's obsessive habanera for Hitchcock's
Vertigo
. Slow and quietly meditative string music contrasts with evocations of sea-waves from the piano.
The finale continues the emphatic and tempestuous mood of the opening movement and at about one minute in, those obsessive Herrmann-esque figures are heard again leading to barbaric, possessed dance figures. This is an extraordinary movement, its temperature often icy, with some weird effects. The Celtic influence is strong too. Ashley Wass, so well-attuned to Bax's idiom, as evidenced on his previous, well-received, Naxos Bax releases, is partnered by an equally responsive Tippett Quartet, to deliver a committed performance of this passionate, capricious music. Frank Bridge's lovely, shorter Piano Quintet belongs to his more accessible, first creative period. It was originally conceived as a four-movement piece but it was radically revised in 1912 when the composer virtually re-wrote the first movement, shortening it and lightening its textures, and compressing the two middle movements into one. Like the Bax Quintet, it too begins in turmoil but its darker pages vie with the most gorgeous melody, a tune that has persisted in my mind for days, especially as played so tenderly here. The second movement charms. It opens softly, slowly and meditatively before another lovely romantic melody unfolds. A touch of Mendelssohn follows with a scampering elfin scherzo. The
Allegro energico
finale is forceful with much energy and fire. A wistful tune voiced by the viola and developed by the piano and strings brings lyrical relief. Stunning performances of two important British Piano Quintets. Review available by kind permission of MusicWeb International Website: http://www.musicweb-international.com/index.htm