Arnold Bax and Ralph Vaughan Williams by Richard R. Adams
Arnold Bax and Ralph Vaughan Williams
by Richard R. Adams
THE SIR ARNOLD BAX WEB SITE
Last Modified July 21, 1999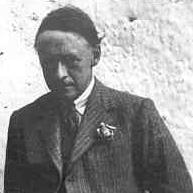 Sir Arnold Bax (looking typically pensive and uncomfortable)
It is difficult to imagine two figures as different in their art and lives as Ralph Vaughan Williams and Sir Arnold Bax. Take their physical appearances for example; from his photos, Vaughan Williams appears enormous, particularly in his later years. His features are smooth and benign. My favorite photo of Vaughan Williams shows him from behind, a massive giant looming over a small boy whose hand he is holding gently. Bax, in contrast, appears remote, his features are handsome but pensive. The fact that we rarely catch him smiling in his photos contributes to this impression. Their backgrounds are roughly similar in that both came from well-to-do families, both went to prominent music colleges in London and both married in their youth. Bax left his wife a couple of years into his marriage and ran off with the pianist Harriet Cohen, whereas VW remained devotedly attached to his wife, even throughout her long illness with arthritis. Ironically, it was the flighty Bax who fathered children while VW sublimated whatever parental urges he may have had onto a long line of students and burly felines. Bax's creative energies began to wane in his later years. He wrote little of substance after his Seventh Symphony in 1938. Whereas Vaughan Williams' music became increasingly visionary and even more youthful as he aged. Vaughan Williams was the undisputed leader of British music from the 1930s until the premiere of Peter Grimes but it was Bax who was knighted and became the Master of the Kings Musick.
The most significant difference pertains to their popularity. The Vaughan Williams symphonies are widely performed in the United Kingdom and are beginning to catch on elsewhere, particularly in the United States. The seven symphonies of Bax are rarely performed even in the United Kingdom, a shameful situation I believe. This hasn't always been the case. Throughout the 1920s and early 30s, Bax was the preeminent composer of symphonies in England. His symphonies were premiered and championed by the greatest conductors of the time including Koussevitsky, Monteux, Reiner, Barbirolli, Harty, Beecham, etc. Ironically, it was the very symphony that VW dedicated to Bax, his Fourth, along with Walton's First Symphony, that diverted attention away from Bax and established VW and Walton as the leading figures of British music (Benjamin Britten would join them a few years later). Bax wrote only one more symphony (his Seventh) and his Violin Concerto after 1934 but very little after that which is of interest. Vaughan Williams, on the other hand, went from strength to strength; a period of creativity that culminated in his most acclaimed symphony, the Sixth Symphony from 1948. At the time of his death, Bax's headlong fall into neglect was nearly complete. There were the occasional performances of Garden of Fand and Tintagel but the symphonies never appeared on concert programs. Vaughan Williams' reputation suffered a little after his death but his symphonies continued to be performed and recorded and his popularity is now at an all-time-high. Bax has his enthusiastic band of followers and most of his major works are available on compact disc (surprisingly few in entirely successful renditions, in my opinion) but concert performances of his symphonies are very rare events.
So what accounts for this difference in fortunes? Why has Vaughan Williams found an audience while Bax languors in the background? The answer depends upon whom you ask. It has been stated that Bax wrote the same symphony seven times. His symphonies have been described as a succession of beautiful episodes, loosely linked but lacking in real symphonic development. The only advantage given to Bax over VW is that he was the greater orchestrater, perhaps the greatest of his generation. Are these assertions fair? Not entirely.
The attentive listener will discover an enormous range of emotions and textures within Bax's symphonies. Far from being carbon copies, each symphony clearly stands out from the others. A superficial description of each symphonies might go as follows: the First Symphony is a bitter lament; the Second Symphony is violently catastrophic; the Third Symphony is beautiful and otherworldly; the Fourth Symphony is an ecstatic celebration of love; the Fifth Symphony is legendary and northern in mood; the Sixth Symphony is a summation of all that has come before and the Seventh is nostalgic and resigned. The first four symphonies are richly colored and lush while the last three symphonies are lean and even terse. No less an authority than conductor Vernon Handley has challenged the assumption that Bax's symphonies are episodic and wayward in structure. While he admits the symphonies are loaded with beautiful melodies and luscious chromatic harmonies, he says Bax supports his material with a firmly-grounded structure that may not always be apparent upon first hearing but is there nevertheless. He points out that Bax often develops entire symphonies out of the material he presents at the beginning of each symphony. So while Bax's approach to symphonic development may be idiosyncratic, it does occurs. All agree he was a brilliant orchestrater but the same is true of Vaughan Williams as musicologist Michael Kennedy has so persuasively argued in his definitive study on the composer. Modern musicology is laying to rest these damning appraisals of Bax and Vaughan Williams -- and not a moment to soon!
How did these two composers regard each other's music? We know they met around the time Vaughan Williams was composing his London Symphony. Bax's biographer Lewis Foreman has written that VW was unsure about a particular passage in his own symphony and Bax sat at the piano and improvised a counter melody on the oboe which VW liked but found too obviously Baxian to be of any use. Vaughan Williams returned the favor to Bax when the younger composer was at work on his Third Symphony. Vaughan Williams encouraged Bax to lengthen by sixteen bars the fortissimo orchestral tutti at the end of the First Movement. VW was not alone in his adoration of Bax's Third for it was also admired by Sibelius, Rachmaninoff and Moeran but Vaughan Williams was the most demonstrative in his affection. He quoted two bars from the epilogue in the last movement of the original version of his Piano Concerto from 1931. This concerto was composed for Harriet Cohen and it came to represent the close bond that existed at that time among VW, Cohen and Bax, Foreman has said. Later VW revised the concerto and dropped the quotation saying its appearance in the concerto confused listeners and said its significance was more personal than musical and therefore didn't belong in the piece. Foreman says the astute listeners can still hear glimpses of the Bax epilogue in the Romanza movement from this great concerto.
Shortly after the concerto was first played, VW composed his Fourth Symphony which he dedicated to Bax. Bax was obviously moved as he wrote back to the senior composer saying, "…this is the finest tribute of affection and comradeship that has ever been paid me, and I shall value it all my life. I need say no more than this." Around this same time, VW was quoted in the Radio Times as saying that Bax was worthy to stand beside his better-known contemporaries Schoenberg, Hindemith, Poulenc and Stravinsky. He added, "Personally, I do not consider that most of the names on that program are worthy to stand beside Bax, but this, of course, is a matter of opinion." I suspect at this time VW was seeking a confident with whom he could share his ideas and seek sound musical critiques as he had done with Holst and would later do with Gerald Finzi and Herbert Howells. But Bax was a very solitary figure - more involved with his various romances than being a soul-mate to the older English composer. I've also wondered if Bax began to resent VW's growing popularity and status as the "leading" British composer of the day. It couldn't have been easy for Bax to sit back and watch each new VW work being greeted with rapturous acclaim while his own works were being performed less frequently. At the time of Bax's death, VW wrote in a private letter to Michael Kennedy that while he was beginning to have his doubts about Bax, he still loved the Third Symphony which he considered the best among the symphonies.
Bax enthusiasts have long argued that at his best, Bax is the equal of his British contemporaries and that his best symphonies are worthy to stand along side those of VW and Walton. So where should the uninitiated begin? Bax's most popular tone poem has always been Tintagel and the Third Symphony has been played more often than the other symphonies. As beautiful as both those masterworks are, I believe they are less personal than his very best scores. Bax was an extraordinarily passionate human being and those passions are best expressed, I believe, in his Second and Sixth Symphonies, Spring Fire, Mater Ora Filium, Winter Legends and November Woods. It is in the Second Symphony and November Woods, in particular, where Bax does battle against some particularly fierce demons. The turbulence of those scores and the power of the ideas and their expression place them at the very top of Bax's musical output.
November Woods was first performed by Sir Hamilton Harty on November 18, 1920. The work was written in 1917 and this dark, foreboding music is unquestionably autobiographical. Bax was married at the time of its composition but he was in the midst of a passionate love affair with Harriet Cohen. Lewis Foreman has noted that during that time, Bax would frequently rendezvous with Harriet Cohen at the Crown hotel, Amersham. Evidently, he would travel there by bicycle over the Chiltern Hills and Bax himself stated it was those woods and the anguished emotions he was feeling at the time that inspired November Woods. In a letter to the critic Ernest Newman, Bax wrote that while the work may be taken as "an impression of the dank and stormy music of nature in late autumn," its origins "are connected with certain troublous experiences I was going through myself at the time and the mood of the Buckinghamshire wood where the idea of this work came, seemed to sound a similar chord, as it were. If there are sounds in the music which recall the screaming of the wind and the crackling of strained branches, I hope they may suggest deeper things at the same time. The middle part may be taken as a dream of happier days, such as sometimes come in the intervals of stress either physical or mental."
Bax's unrivaled ability to translate natural scenes into aural impressions is at its most inspired in this score. The opening pages set the windy scene with muted strings and harp glissandi punctuated with whirling figures in the brass and woodwinds. All of this builds to an impassioned climax which is then followed by music of deep reflection and nostalgia. The storm music returns and builds to a surging, dynamic tutti that overwhelms all that has come before. With all energy spent, the scene changes and the landscape becomes remote and quiet -- the dark clouds and wind remaining for Bax gives us no relief from this brutal scene of nature. The music then fades away into a most ominous silence. This score has been recorded several times, most successfully, I believe, by Sir Adrian Boult on a Lyrita disc SRCD.231. Naxos has just released a new recording featuring David Lloyd-Jones and the Royal Scottish National. His interpretation is very tense and hard driven but seems to gloss over some of the more introspective passages of this great score.
The new Naxos disc couples November Woods with Bax's Second Symphony. Admirers of Bax usually cite the Second and Sixth Symphonies as the greatest from his cycle. The Sixth is, along with the Seventh, the most formally satisfying of Bax's symphonies but the Second is unquestionably Bax's most personal and harrowing score. Bax began writing it in 1924 and it was completed in March 1926. It was dedicated to Serge Koussevitsky who premiered the work with the Boston Symphony in December 1929. Sir Eugene Goossens premiered the work in England in May 1930 and he remained an ardent champion of the work, giving memorial performances of it shortly after Bax's death in 1953. Bax uses a gargantuan orchestra which includes two harps, piano, xylophone, glockenspiel, gong and organ. Bax was literally possessed by this work during its two year gestation. He wrote, "I put a great deal of time and emotion in the writing, and it should be very broad indeed, with a kind of oppressive catastrophic mood." Bax was so exhausted by the composition of this score that he composed little else during those two years, a unique situation considering Bax's almost obsessive need to compose. Lewis Foreman has said that the Second Symphony "can be approached at a number of different levels, but at the very least it is music of such evocative power and impact as to make almost all contemporary works, at least by British composers, appear very pale." David Cox has described the work as an "introspective exploration of an inner world of nightmare and frustration."
Those who respond to Vaughan Williams' two E minor symphonies should find much in Bax's Second that will impress for they allshare the same bleak and terrifying vision. Indeed, the epilogue from Bax's Second Symphony can only be compared with that of VW's Sixth in conveying absolute nihilism. Not all is despairing for there are moments of meditative calm in the first movement as well as some lyrical and impassioned music in the second movement butthere is nothing consoling about the violent and catastrophic music from the final movement of this symphony. The most dramatic moment of the entire work is near the end when there is a shattering outburst from the organ and brass which suggests, to this listener anyway, an image of harrowing defeat and complete chaos. This moment will shock those who perceive Bax as being nothing more than an idyllic dreamer. The final three minutes of this symphony make up the epilogue, which while brief, is unbearably affecting in its evocation of total resignation. Not even VW's Sixth or Ninth Symphonies are as dark and despairing.
Bax's Second Symphony has been recorded three times. Lyrita recorded the symphony with Myer Fredman in the early 1970s and it is long out-of-print. It should be reissued on compact disc for it is a tremendously powerful performance, much more so than Bryden Thomson's overly expansive recording on Chandos. David Lloyd-Jones new recording features a similarly broad interpretation that is much more successful in conveying the dark turbulance and emotional grief that this work so powerfully portrays. This recent Naxos disc (8.554093) should be heard by anyone interested in hearing Bax's art at its absolute zenith.
This text is copyrighted by Richard R. Adams